MP faces prosecution in France over Hitler Roma remark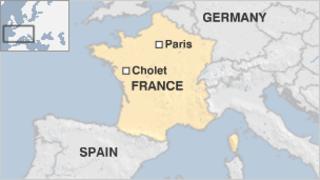 A French MP is facing prosecution for allegedly endorsing Hitler's crimes against the Roma (Gypsies) during a confrontation with travellers.
Gilles Bourdouleix has tried to defend himself after he was recorded saying "maybe Hitler didn't kill enough of them" during the incident on Sunday.
He says he was just repeating the words of the reporter who recorded him.
But Interior Minister Manuel Valls said he should be punished "very severely" for the "unacceptable" remarks.
The MP also faces expulsion from his own party, the centre-right UDI.
Up to half a million members of the Roma community were murdered by the Nazis during World War II.
The European Commission says many of the 12 million Roma now living in the European Union face prejudice, social exclusion and poverty.
'Intolerable'
Mr Bourdouleix was involved in a stand-off with travellers illegally occupying private land near Cholet, a town in western France where he also serves as mayor.
According to regional newspaper Le Courrier de l'Ouest, the MP became exasperated by "Nazi salutes" and "accusations of racism".
Its reporter captured him making the controversial remark in an audio recording which was published on Tuesday, after Mr Bourdouleix accused the paper of distorting his words.
He later told the iTele TV channel that his words had been manipulated and he had merely been repeating a phrase used by the journalist.
By his account, he had been confronted by 30 to 40 travellers who made Nazi salutes at him and called him a "dirty little Hitler".
Accusing the paper of bearing a grudge against him, he dismissed the reporter with a crude term of abuse and said he would like to give him "a couple of punches''.
The French interior minister said he would ask for the MP to be prosecuted for seeking to "justify a crime against humanity".
UDI secretary-general Jean-Christophe Lagarde tweeted that the party would seek to expel Mr Bourdouleix, whose words were "intolerable" and incompatible with the party's values.
According to AFP news agency, the travellers involved in the dispute left the land on Monday.
France is home to some 400,000 travellers, who are 95% French. The group involved at Cholet are said to belong to belong to a Protestant missionary movement, the Life and Light Association.