Politkovskaya family boycott murder trial over jury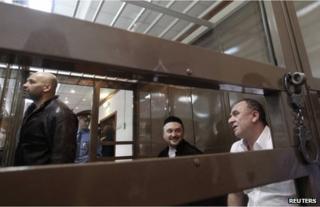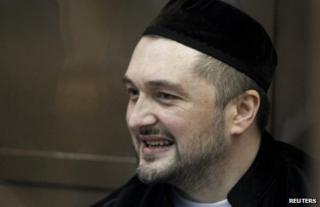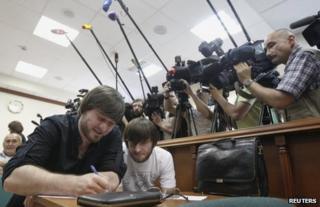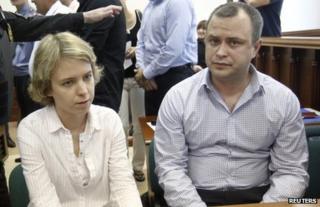 The alleged killers of Russian journalist Anna Politkovskaya have gone on trial in Moscow, with her family boycotting proceedings.
Her children Vera and Ilya said the court had chosen the jury without asking them and rushed the trial date.
In their statement, they said they had waited nearly seven years for a trial that was now "patently illegitimate".
All five defendants, who include four members of the same Chechen family, say they are innocent.
Three of the accused were acquitted of the murder in 2009 but that verdict was overturned by Russia's supreme court.
Politkovskaya, a strong critic of the Kremlin, was gunned down in the lift of her Moscow apartment block in October 2006, in a crime that was condemned internationally.
A Moscow city court spokeswoman said the jury had been selected in full compliance with the law.
'Patently illegitimate'
Ilya and Vera said the court had rushed the trial date knowing full well they both could not take part on that date, as they were outside Moscow.
"In this way, the court has violated our legal rights," they said in a statement released on Tuesday.
"We have waited almost seven years for the killers to stand trial but the state could not wait a few days. Tomorrow [Wednesday], a patently illegitimate process begins. We refuse to take part in such a trial."
They called on the jurors to recuse themselves.
The editor of Novaya Gazeta, Politkovskaya's former paper, said he supported the children's decision.
"We are not doubting the jurors..." Dmitry Muratov told Russian news agency Interfax. "We do not trust the procedure by which the jurors were selected so frenetically and rapidly."
At the opening of the trial on Wednesday, the judge rejected a request from the defence to halt proceedings, given the absence of the dead woman's family, AFP news agency reports.
Lom-Ali Gaitukayev is accused of organising the assassination while one of his nephews, Rustam Makhmudov, is suspected of being the actual gunman.
Two other nephews, Ibragim and Dzhibrail Makhmudov, and a former policeman, Sergei Khadzhikurbanov, are accused of being accomplices.
Last year a former police lieutenant-colonel, Dmitry Pavlyuchenkov, was convicted of supplying the murder weapon, and was sentenced to eleven years in jail.
But investigators have yet to provide any details of who they believe ordered the killing.