Dublin hospital to test 18 children after colonoscope contamination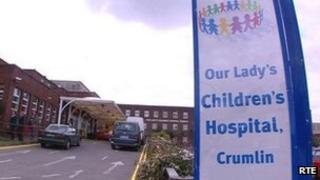 Eighteen children are to undergo tests after a piece of medical equipment used to treat them at an Irish hospital was found to be contaminated with a bug.
The children had bowel examinations at Our Lady's Children's Hospital, Dublin, between 17 May and 5 July.
On 6 July, a colonoscope that had been used in all 18 examinations was found to be contaminated with a bug that is resistant to common antibiotics.
The hospital said: "There is no immediate impact on children's health."
In a statement, a spokesman added: "The hospital apologises for any distress caused."
Cracked scope
He said staff have already made contact with the families of 15 of the 18 children affected.
It is providing them with stool sample testing kits to check if the children are carrying the bug in their bowels.
Dr Colm Costigan, clinical director of all three children's hospitals in Dublin, said the contamination was discovered during routine testing of the colonoscope.
The equipment is sterilised after each colonoscopy, but every four to six weeks, the hospital carries out a very detailed examination of its colonoscopes.
"We think what's happened is, there may have been a small crack inside the scope that allowed the bug to survive, despite the routine sterilisation process."
Dr Costigan told the Irish state broadcaster RTE: "It's a bug that normally resides in the bacteria within the bowel but what makes it different is it's able to produce an enzyme that can inhibit certain antibiotics."
'Carriers'
The contaminant detected on the colonoscope on 6 July are enzymes known as extended spectrum beta lactamases (ESBL).
Dr Costigan said if the bug is detected in any of the children involved, they are very unlikely to immediately become ill as a result, but they would be considered as "carriers" of the bug.
Their families have to be informed as it could affect doctors' decisions when prescribing antibiotics to the children, in the case of any future infections.
Hospital staff are continuing their efforts to make contact with the three remaining families who have yet to be informed.
The hospital's statement said families who used the testing kits would be notified of the results "immediately".
"If any child is found to be positive, the hospital will arrange to meet the family and will provide them with all the necessary information and support.
"It is important to note that this issue was discovered by the hospital as a result of routine quality assurance," the statement added.