Tax evasion charge for Bayern Munich chief Uli Hoeness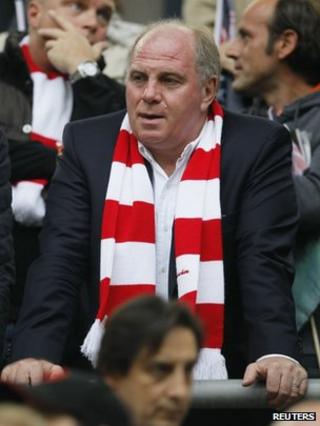 German prosecutors have charged Uli Hoeness, president of European football champions Bayern Munich, with tax evasion after a lengthy inquiry.
Lawyers for Mr Hoeness have one month to respond to the charges before a court in Munich decides whether the case should go to trial.
The former footballer reported himself to the authorities earlier this year over an undeclared Swiss bank account.
Bayern Munich beat Borussia Dortmund to win last season's Champions League.
News of the secret bank account caused a stir in Germany with even Chancellor Angela Merkel's spokesman saying she was disappointed in the former West Germany international.
Neither he nor officials have disclosed how much money is involved, but German media suggest he deposited millions of euros in a Zurich-based account over 10 years.
He is said to have failed to pay capital gains tax.
Ken Heidenreich, a spokesman for Munich prosecutors, declined to give details of the indictment on Tuesday, citing tax secrecy laws.
"We have filed the charges to the Munich state court," he said. "The defence now has one month to pronounce itself."
In May, Bayern's supervisory board backed Mr Hoeness to remain in the job despite the investigation against him.
The club won the Uefa Champions League in May, beating German rivals Borussia Dortmund.