Ex-IMF head Strauss-Kahn says politics is over for him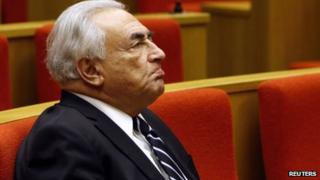 The French Socialist and former head of the International Monetary Fund, Dominique Strauss-Kahn, has said his political career is now over.
"Politics for me is in the past," he told Russian state TV, adding he was working as an economic advisor for big firms, including two based in Russia
Mr Strauss-Kahn was last week ordered to stand trial in France on charges of pimping in the city of Lille.
In 2011 he quit the IMF after claims of a sex attack on a New York hotel maid.
This month Mr Strauss-Kahn was appointed a member of the board of directors at two Russian state-controlled financial institutions - the Russian Fund for Direct Investment and the Russian Bank for Regional Development.
In an interview on Russia 24 TV channel, he said Russia should "significantly internationalise its economic activity".
Only days ago, investigating magistrates in France decided he should be tried along with 12 others in connection with an alleged prostitution ring at a hotel in Lille.
The former presidential hopeful has admitted attending sex parties there, but says he did not know that some of the women were paid prostitutes.
A series of lurid claims have been made about him since his arrest in New York in May 2011 after a hotel maid said he had tried to rape her.
Charges were eventually dropped, and Mr Strauss-Kahn subsequently reached a settlement with the maid, Nafissatou Diallo.
Two other cases against him have also been dismissed.