German magnate Berthold Beitz who saved Jews in WWII dies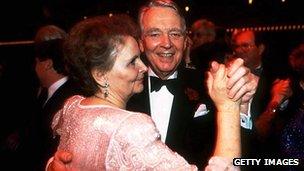 A leading German industrialist who saved hundreds of Jews during World War II, has died aged 99, his company said.
Berthold Beitz headed the ThyssenKrupp corporation, one of the world's largest steel producers. He passed away on Tuesday, the firm said in a statement.
Mr Beitz was internationally recognised for saving Jews in occupied Poland from being transferred to Nazi death camps.
The magnate was also credited with playing a key role in Germany's post-war reconstruction.
During the war, Mr Beitz managed an oil field in occupied Poland. Between 1942 and 1944, he rescued hundreds of Jewish oil field workers from trains destined for the Belzec death camp. He and his wife also hid Jewish children in their home.
"Together with his wife, he set an impressive example of courage and humanity by saving hundreds of persecuted Jews from the SS, risking his own life in the process," ThyssenKrupp said on Wednesday.
Mr Beitz received numerous honours for his bravery. In 2000, both he and his wife were awarded the Leon-Baeck prize, the highest award by Germany's Central Council of Jews.
Chancellor Angela Merkel has described Mr Beitz as one of the country's most distinguished businessmen and applauded his "brave and exemplary support for Jewish workers during World War II".
Mr Beitz was considered instrumental in helping to revive the German steel trade and expand into foreign markets after the war.
In the 1950s, he joined the Krupp steel company, which had been heavily involved in armaments production during the war. He ran the company for six decades.