Catholic leaders in Slovenia resign over finances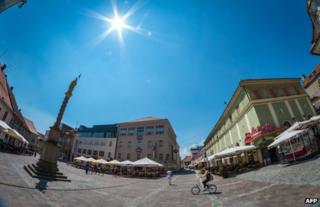 Slovenia's two most senior Catholic clerics have resigned over a financial scandal said to have cost the Church up to 800m euros (£700m; $1bn).
Pope Francis has accepted the resignation of the Archbishop of Ljubljana, Anton Stres, and the Archbishop of Maribor, Marjan Turnsek.
They resigned under rules for bishops who "become unsuited for fulfilment" for their office, the Vatican said.
The archdiocese of Maribor suffered the losses on investments in businesses.
When news of the losses broke in 2011, Maribor's previous Archbishop, Franc Kramberger, resigned.
Both of the current archbishops were involved in Maribor's finances but face no allegations of criminal misconduct, the Associated Press news agency reports.
Pope Francis has preached against waste, financial or otherwise, since becoming head of the Church earlier this year.