Hundreds attend funeral of Chada brothers in County Carlow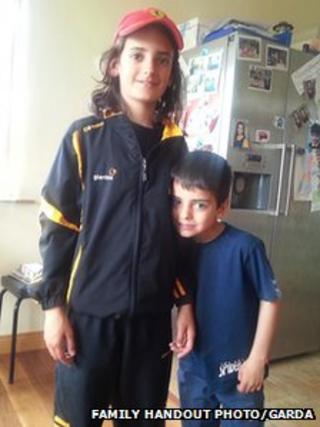 Hundreds of people have attended the funeral of two young boys found dead in the boot of a car in County Mayo.
A Mass for Eoghan Chada, 10, and his brother Ruairí, 5, was said in St Lazerian's Church, Ballinkillen, in County Carlow.
Parish priest Father Declan Foley said the boys' deaths were "beyond comprehension".
He said when their bodies were discovered, it was as "if the earth had quaked and the house had shook".
Parish priest Father Declan Foley said the pair had brought joy and happiness to their family and the community in Ballinkillen.
He reflected on the fact that last Sunday the boys had been in the church with their grandmother, helping her tidy up after Mass.
On Friday, the boys were buried in the adjoining cemetery to the church.
The service included the boy's favourite Bible story, Noah's Ark, and a reflection by Father George Augustine, an Indian priest from Portlaoise.
"Their deaths have stunned the whole community but particularly the parents of their classmates, and their big concern was how they were going to tell their own children this sad news," Fr Foley said.
On Friday, a judge ordered that the boys' father, who is charged with their murder, should undergo medical treatment.
Sanjeev Chada, 43, from Ballinkillen, County Carlow, was further remanded in custody when he appeared before a district court in County Roscommon.
The bodies of Eoghan and Ruairí Chada were discovered in a vehicle driven by their father in County Mayo on Monday.
Their father was charged with their murders on Thursday night.