Irish battle over plans for Aran giant salmon farm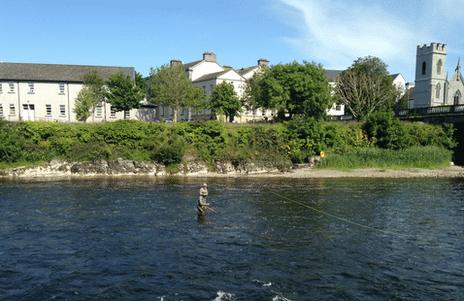 Plans for the Republic of Ireland's biggest salmon farm have sparked a furious dispute, with a group of islanders in one of Europe's most remote communities leading the campaign against it.
The Aran Islands shield Galway Bay from the wild Atlantic beyond - a key reason its waters have been chosen as the proposed site for the country's biggest salmon farm by the sea fisheries state agency (BIM).
The plan to double the farmed-salmon output of 15,000 tonnes a year pits those who say it is an under-developed resource badly needed in recession against those arguing it threatens the environment and wild salmon and sea trout stocks.
Out on Inis Oirr island, the Irish-speaking community of fewer than 300 relies mostly on fishing and tourism. Bilingual posters oppose the farm. Background music to breakfast is a new protest CD against the scheme.
Some islanders like Ruairi O Cualain fear the farm could change the islands forever.
"It could pollute the waters, pollute the sea around us, put an end to the fishing, put an end to the tourism here," he says.
"We've a beautiful beach, we've beautiful clean waters. Who's going to visit the place with a huge fish farm just a mile off of it, with noise there 24 hours a day, with smell from fish? I don't even know if I want to live here if the fish farm comes in here."
On mainland Connemara, a different view is heard. Fish processor Cathal Groonell says his company will not benefit but welcomes the 500 jobs BIM promises in an area ravaged by emigration and recession.
"There are actually no opportunities for employment here," he says.
"If people want work, they have to move out of the area. I am friendly with one of the local pub-owners and he says his main business now is parties for people going abroad.
"Whole families are going - I've had people coming down here looking for work, their parents have come down here after and asked me have I any job that will give their son a reason to get out of bed in the morning. I think that is very sad and I think those people deserve a chance."
BIM says there is surging global demand - particularly in growth economies like China and India - but that Ireland is way behind.
"The Scottish industry currently produces 160,000 tonnes per annum - Norway 1.2 million tonnes," says the BIM's Galway Bay project chief, Donal Maguire.
"The Irish industry, even if doubled, is only a slow week in Norway. So we've a tiny industry.
"But we know there's a tremendous economic demand for the product so there is a great opportunity to create employment and exports from this project - and that's what we're all about. We're in this to help bring about the recovery of Ireland."
Environmentalists argue that salmon-farming is a dirty business, however, using huge quantities of chemicals and producing pollution from fish packed in huge cages. Such views are dismissed by the industry which says it passes rigorous regulation.
Anglers who usually seek peace and quiet have been making plenty of noise over the fish farm, with thousands protesting in Galway, saying it threatens wild salmon and sea trout.
At the famed Weir Pool state-run fishery in the heart of Galway, fishermen from home and abroad rest in a tea-room after the morning's search for an elusive wild fish.
They are watching television instead of fishing: not the day's news or soaps but live coverage from underwater cameras in the river showing the ones that got away - salmon swimming past on the long journey home to spawn from Galway Bay.
While a few fish make an appearance, stocks are fragile, however - a bit like relations between BIM and another state agency, Inland Fisheries Ireland (IFI), responsible for wild freshwater fish.
IFI says angling is worth 10,000 jobs and over 750m euros to Ireland a year. Its chief fish scientist believes the farm's seven million salmon could cause an infestation of sea lice - a natural parasite - with devastating consequences for the few wild fish which make it home to spawn.
"For every hundred juvenile salmon that leave, you would expect about 5% back," says Dr Paddy Gargan.
"We've research to show that if the farm was built and had the impact that we've seen previously in other experiments we've done, you could lose 40% of those returning fish. There certainly is a potential impact for serious loss of salmon in the rivers in Galway Bay."
In what has become a battle of conflicting science, BIM has produced its own reports saying its plan is safe. It says the site's location in deep water will not affect wild fish.
The decision rests with Ireland's Agriculture Minister, Simon Coveney. He supports salmon farming but says there is no conflict of interest.
"There is always a strict separation between the minister's role as decision-maker in respect of aquaculture licence applications, which is governed by legislation, and the minister's ongoing duty to promote the sustainable development of the industry," a department spokeswoman said. "This separation of duties is strictly observed."
Related Internet Links
The BBC is not responsible for the content of external sites.