Dublin Bus staff in all-out strike over cost-cutting plans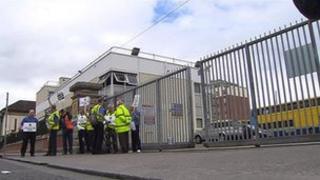 Dublin Bus workers are continuing an all-out strike in a row over cost-cutting measures by the company.
The strike began at midnight on Saturday and the company said no services would operate on either Sunday or Monday.
The company's cost cutting plan is part of a Labour Court recommendation aimed at saving 11.7m euros (£10.16m).
Drivers and other staff have described the changes as unacceptable, but Dublin Bus said they are necessary.
The company introduced the changes on Sunday, following 14 months of negotiations which failed to reach agreement with staff.
The cost-cutting measures include pay-cuts for executive and management grades and cuts in annual leave for clerical staff and management.
Although there will be no reduction in pay for drivers, overtime rates and premium payments have been reduced.
The company has also introduced changes to rosters, particularly to accommodate new summer timetables.
Minister for Transport Leo Varadkar expressed regret at the dispute and called on trade unions to have a rethink and end the industrial action.
"I urge the trade unions to reconsider their position and call off this action. Both sides should do everything to agree the necessary savings in order to protect existing service levels," Mr Varadkar said.
"Public transport should be run in the interests of the passengers who use it and the taxpayers who pay for it, and not in the interests of management or unions.
"Negotiations have been ongoing for over a year and recommendations have been made by the Labour Relations Commission and the Labour Court."
Ireland's Minister for Public Transport, Alan Kelly, described the strike as a "bad day for public transport in Ireland".
The government has urged Dublin Bus and unions to resolve their disagreements.
Workers at Irish Rail have indicated that they will lend their support to Dublin Bus workers if the dispute is not resolved.