Hungarian Roma affected by water supply cuts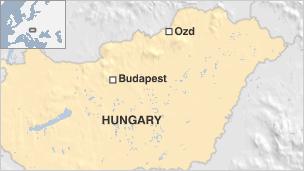 Several thousand Roma (Gypsies) have had their water supplies cut off or reduced in a dispute with the council in the northern Hungarian town of Ozd.
Ozd's council did not directly accuse local Roma, but said residents were wasting water and it could no longer afford to operate pumps and wells.
Many Roma in eastern Europe depend on roadside pumps, as they are too poor to pay for running water in their homes.
Temperatures in northern Hungary can reach 40C (104F) during the summer.
Last Friday, the local water authority in Ozd implemented a decision taken by the town council in June to turn off 28 pumps completely, and reduce the pressure in a further 60, says the BBC's Nick Thorpe in Budapest.
The mayor, Pal Furjes, said the council could no longer afford the 50,000-euro (£43,000) annual water bill from all the pumps in the town, and accused locals of abusing wells to wash their cars and fill swimming pools.
The Roma, who make up about a third of Ozd's population of 36,000, deny the allegations and are organising protests.
Our correspondent says hundreds of people have had to queue at roadside wells in Ozd to collect a trickle of water.
Wells have also been disconnected or water pressure reduced in at least two other towns in north-eastern Hungary.
Mr Furjes and the council are from Hungary's ruling conservative Fidesz party, which has previously been accused of failing to do enough to tackle anti-Roma racism and vigilante attacks in the country.