Hungarian gang jailed for racist Roma killings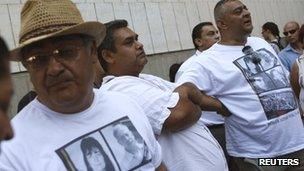 A court in Hungary has found four men guilty of killing six Roma (Gypsy) people in racist attacks.
The victims included a five-year-old child. The attacks on Roma families took place in villages in north-eastern Hungary in 2008 and 2009.
The brutal crimes shocked Hungary and the police were accused of blunders.
Life sentences were handed down to Arpad Kiss, Istvan Kiss and Zsolt Peto. A fourth defendant, Istvan Csontos, got a 13-year prison sentence.
The men used guns, grenades and petrol bombs in nine assaults on Roma over a 14-month period.
In one attack a house was set ablaze and as a Roma father and his five-year-old son fled they were shot dead by the gang.
That attack, in Tatarszentgyorgy, spread fear through the Roma community.
The four men admitted involvement in the attacks, but all pleaded not guilty to murder.
Two of the gang, Istvan Kiss and Zsolt Peto, had links to nationalist groups.
Of the four, Csontos was the only one to co-operate meaningfully with the police, the BBC's Nick Thorpe reports from Budapest. He had worked previously for Hungarian military intelligence and was the only one with any military experience.
Critics say the trial focused too much on the details and not enough on the men's motives, thus missing an opportunity to examine tensions between Roma and ethnic Hungarians, our correspondent says.
Roma make up about 7% of Hungary's 10-million population. The Roma community is blighted by poverty and illiteracy, with many Roma living on the margins of Hungarian society, often victims of neglect and discrimination.
Istvan Kiss had attended the founding of a nationalist vigilante group, the Hungarian Guard, with Zsolt Peto, but had found them too soft and "ridiculous".
Our correspondent says many mysteries remain about the case. It is still not clear how the men managed to find funds and train for the killings, while remaining undetected for so long.
Csontos's handling officer in military intelligence gave evidence in a closed court session, and there remain suspicions that employees of the service may have had links to the attacks.
Arpad Kiss's lawyer, Laszlo Berdi, said "others should be on the bench with the accused".
The prosecution alleged that the men's plan was to provoke a violent reaction from the Roma, and thus incite ethnic conflict.
Jobbik, the third biggest party in Hungary's parliament, has an openly hostile stance towards Roma - as do nationalist vigilante groups.