French serviceman held in Lyon over suspected mosque plot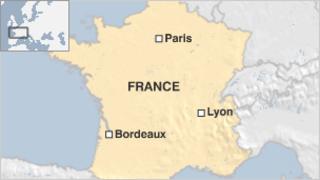 A French military serviceman has been arrested for allegedly planning an attack on a mosque, the interior ministry has said.
The 23-year-old man was stationed at an air base near Lyon.
The ministry said the serviceman had carried out an earlier mosque attack and had views described as "close to the extreme right".
Extremist groups have become more active in France. The ministry said their actions would not be tolerated.
The ministry confirmed the man had been held near Lyon but did not say when the arrest took place.
A statement said the suspect had been questioned by the domestic intelligence agency, the DCRI, and indicted for possessing weapons with intent to carry out a terrorist act and for intent to desecrate a shrine through a terrorist act.
A judicial source told Agence France-Presse news agency the suspect planned a gun attack on the mosque in the Venissieux suburb of Lyon to coincide with the end of the Muslim holy month of Ramadan.
Groups banned
The statement quoted Interior Minister Manuel Valls as reiterating a determination "to fight against all forms of violence inspired by the most extremist ideologies that affect the values ​​of the Republic" whose intent was to "spread a climate of hate".
"No tolerance shall be permitted," the minister was quoted as saying.
The serviceman was said to have attacked a mosque in the Bordeaux region last year, although little damage was caused.
The government is facing an increase in far-right militant activity.
Last month it banned three far-right groups - the Third Way, the Revolutionary Nationalist Youth and the Desire to Dream association.
They were allegedly linked to the death of left-wing activist Clement Meric, 18, who died after being beaten in a busy shopping area in Paris.