Wwoof farming: Working the soil in far-off lands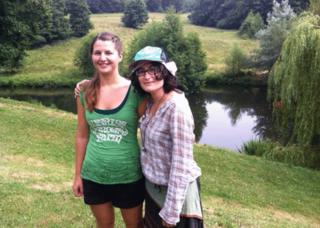 In 1971 a secretary from London called Sue Coppard placed an ad in the papers. She was looking for a chemicals-free farm where she could spend her weekends, helping out and learning about the soil.
Today her initiative has been transformed into a vast international network, highly regarded by those who follow these matters for its role in promoting the organic lifestyle.
The Worldwide Opportunities on Organic Farms movement - commonly known as Wwoof - offers positions for some 80,000 volunteers on 12,000 host farms in more than 100 countries.
The deal is simple. Volunteers - or Wwoofers - are given board and lodging for an agreed period, and in return provide a pair of hands.
The farmer gets physical help and on labour-intensive organic farms this can make a major difference.
The Wwoofer gets to live in a foreign land and, in addition, picks up valuable knowledge about growing and preparing food the natural way.
The movement has long been familiar to devotees but in the last few years - largely thanks to the economic recession - influence has been spreading.
The work word
"We are seeing a big increase in interest at the moment," says Amanda Pearson, administrator at the UK-based Federation of Wwoof Organisations.
"People are looking for cheaper ways to travel and take their holidays, and youngsters who can't find work or training see it as an alternative way of gaining experience and seeing the world.
"But we're also seeing more older people on our books. We are getting a lot of enquiries from men and women who tell us they are retired but they are fit and well and do not intend to spend the rest of their lives sitting by the fire!
"They are all welcome. For us the only condition is that you are over 18."
If the Wwoof acronym is unchanged since 1971, what it stands for has been through three incarnations.
First the organisation was Working Weekends on Organic Farms. Then it was Willing Workers on Organic Farms.
It got its current formulation about 10 years ago, largely because of growing concerns about use of the word "work".
As Wwoof spread around the world, the risk became more apparent of conflict with local unions and tax authorities who might be less than pleased at seeing potential farm jobs filled by unpaid volunteers.
Wwoof's response was to remove the word "work" from its title, but also to stress what has always been its credo: that the movement is based on a voluntary cultural and educational exchange. Help in return for knowledge.
"The truth is also that most of the farms in our network are small-scale businesses supplying the local community," says Ms Pearson. "Such work as they have is very short-term. They would not be able to support paid labour."
'Our dream'
Les Costils dairy farm in Normandy, France, provides a typical insight into Wwoofing in action.
Owners Alain Karmitz and Rebeka Jaqua have a herd of 30 milkers, plus calves, and supply organic milk to a local company.
For four years they have had the assistance of one or two Wwoofers for eight months of the year. They have come from all parts of the globe: the US, Canada, the UK, Japan, Hong Kong, Latvia and so on.
"They are a lot of help," says Mr Karmitz, whose parents bought the farm in 1970.
"And then because we are unable to leave the farm, we love having people stay from all over the world. Often they've been at other organic farms and we exchange ideas and methods.
"Our dream is to turn Les Costils into a kind of organic academy, where we can pass on our knowledge and help spread the word."
One of today's Wwoofers at Les Costils, Mathilde Perez-Huet, is a 19-year-old forestry student from South Carolina. She runs the vegetable garden which provides much of the farm's food.
The second is Theresa Gehmair, 21, an agriculture student from Austria. She helps with the cows.
A third ex-Wwoofer, Nicole Hayes from Wales, is now a paid-up employee.
"The whole Wwoofing experience here inspired me to become a farmer," she says.
"I dreamt from the moment I left Les Costils that I might have a lifestyle like this. So when they asked if I could come back, I leapt at the opportunity."
Wwoofing on the side
There are Wwoof farms on all continents. And if at the start Wwoofers themselves were largely from the English-speaking world, today they are as likely to be Japanese or Thai as Australian.
Volunteers need to know that the cost of outward travel is their own responsibility. And for many nationalities, visas can be a problem.
There is debate, too, about how much of a commitment volunteers need to be able to show to the ideals of natural farming.
Some fear that Wwoofing could degenerate into glorified student tourism, with participants mainly interested in language-learning or cheap stays in exotic locations.
But others say that if the aim is to win converts, then confining the opportunity to paid-up environmentalists is self-defeating.
One issue to which all are alive is the potential for abuse. Thankfully instances are quite rare, but is not unheard-of, for unscrupulous farmers to exploit Wwoofers as unpaid labour.
"We had Wwoofers here once who told us of another farm they'd been at, where they were basically forced to work round the clock," says Mr Karmitz. "It's not what it's supposed to be about."
Another problem can occur when "farmers" turn out to be businesspeople with a small organic holding on the side, and Wwoofers end up being asked to do all kinds of other non-farming work.
"Most of these problems are self-correcting," says Ms Pearson.
"If Wwoofers complain, the national organisations investigate and if the complaint is upheld, the host is removed from our books."
With the growth in interest, the future of Wwoofing seems assured - though Ms Pearson believes more changes may be to come: "What with the economic downturn in the developed world, and the environmental problems linked to air travel, we are focussing more and more on Wwoofing closer to home.
"In recent years Wwoofing has benefited hugely from budget travel and the internet, but now it may be the time to come full circle."
"When Sue Coppard started out in 1971, she just wanted to find somewhere easily accessible where she could pursue her interest in the organic lifestyle," Ms Pearson adds. "That spirit is returning. We want to make Wwoofing local again."