French lawyer 'Devil's advocate' Jacques Verges dies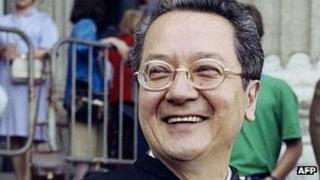 Controversial French lawyer Jacques Verges, whose clients included Carlos the Jackal and Nazi war criminal Klaus Barbie, has died aged 88.
Mr Verges became known as "the Devil's advocate" for taking on controversial and high-profile cases.
He is said to have been a friend of Pol Pot, the Khmer Rouge leader behind the Cambodian genocide.
An anti-colonialist and communist, he defended Algerians accused of terrorism against France in the 1950s.
He once said that he would even have acted as defence lawyer for Hitler.
Mr Verges died from a heart attack in the Paris bedroom of Voltaire, the great 18th-Century Enlightenment philosopher who sharply criticised French establishment thinking.
The publisher of Mr Verges's memoir, Pierre-Guillaume de Roux, said "it was an ideal place for the final dramatic act of this born performer".
"Like Voltaire, he cultivated the art of permanent revolt and U-turns.''
Christian Charriere-Bournazel, head of France's main bar association, told AFP that he had been informed of Mr Verges' death by the lawyer's associates.
"He had a fall a few months ago, he had since lost a lot of weight and walked very slowly. We knew the end was near but we didn't know it would come so soon," he said.
Anti-colonial stance
Mr Verges was born in Thailand to a French diplomat father and a Vietnamese mother, and grew up on the French Indian Ocean island of La Reunion, where he is said to have acquired his fiercely anti-colonialist views.
In World War II he fought with General Charles de Gaulle's Free French resistance and later joined the French Communist Party.
During the Algerian war of independence, he defended Algerians accused of terrorism against France.
One of his clients was his future wife Djamila Bouhired, who had been sentenced to death in 1957 for planting bombs in cafes in Algiers.
In 1994 his defence of the notorious self-styled revolutionary Carlos the Jackal - whose real name is Ilich Ramirez Sanchez - put him in the media spotlight and drew much criticism.
Ramirez is now serving a life sentence for several killings in France in the 1970s.
Later Mr Verges helped former Serbian leader Slobodan Milosevic construct a defence against war crimes charges in The Hague, though Milosevic ended up defending himself in court. He died in prison before any verdict was delivered.
"When a wanted man knocks on my door, for me he is always a king in his misfortune," Mr Verges once said.