Irish family fears for relatives in Cairo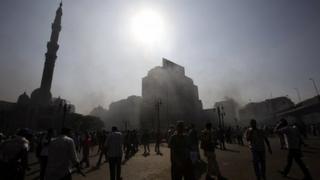 Relatives of four Irish citizens caught up in a stand-off at a Cairo mosque have said they fear for their safety.
The three young women and teenage boy are children of Hussein Halawa, the Imam at Ireland's largest mosque in Clonskeagh in Dublin.
All four were in the al-Fath mosque which was barricaded by supporters of ousted President Mohammed Morsi on Friday.
It was cleared by Egyptian security forces on Saturday.
Omaima, 21, and Fatima Halawa, 23, were taken after they left the mosque by security forces who had surrounded and stormed the building.
Although their mobile phones were taken, the two women managed to borrow one and called their family in Dublin, saying they had been arrested.
The whereabouts of Somaia, 27, and Ibrihim, 17, are currently unknown.
Speaking in Dublin on Saturday night, their sister, Nasaybi Halawa, said: "The last time I talked to my sister was about 1pm this afternoon.
"They had taken her mobile phone but she managed to borrow one. All the while they (security forces) were harassing her and she was screaming and crying.
"We are trying to cope. We are trying to be strong so we can do something for them. We have a hope that everything will be fine."
She added: "We do not know anything about them. We do not know where they have been taken.
"We do not know if they are in one of the police stations in Cairo or somewhere else. We don't even know where to start looking."
The four were among thousands of Muslims who took to the streets on Friday for what they believed would be a peaceful protest, but sought sanctuary in the mosque as violent clashes erupted.
They had gone to their parents' native Egypt with their mother for a holiday at the start of the summer.
The Irish Department of Foreign Affairs is liaising with Egyptian counterparts.
Omaima - a final year student at Blanchardstown Insititute of Tecnology - told RTÉ of the terror inside the mosque as gunfire was heard.
Sheikh Hussein Halawa is the Imam of the Islamic Cultural Centre of Ireland and moved to Dublin with his family 18 years ago.
Crisis talks
Egypt's cabinet is set to discuss the crisis in the country, where hundreds have died in clashes in recent days.
The interim prime minister has put forward a proposal to legally dissolve the Muslim Brotherhood.
Its members are key supporters of Mohammed Morsi, whose ousting as president sparked Egypt's stand-off.
The interim government is continuing to crack down on protests by the Brotherhood, but more demonstrations are planned around Cairo on Sunday.
Overnight, television pictures showed protesters on the streets of Egypt's second largest city, Alexandria, and in Helwan and Minya to the south of Cairo, in defiance of an overnight curfew.
On Saturday Egypt's security forces cleared the al-Fath mosque in Cairo after a long stand-off with Muslim Brotherhood supporters barricaded inside.
The confrontation at the mosque continued for most of Saturday - with exchanges of gunfire between protesters and security forces, who were cheered on by crowds outside.
The Brotherhood has called for daily demonstrations since a crackdown on its protest camps in Cairo on Wednesday left hundreds of people dead. Further clashes on Friday killed at least another 173 people across the country.