Justice row over arrest warrant sours EU-Croatia ties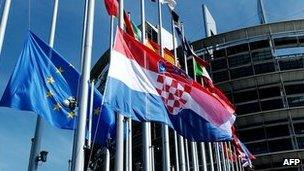 The EU's newest member state, Croatia, faces possible EU penalties because of its refusal to implement a European Arrest Warrant (EAW) issued by Germany.
Croatia joined the EU on 1 July and in late June it adopted a law making EAWs valid only for crimes committed after August 2002.
Germany wants Croatia to hand over Josip Perkovic, a former Yugoslav intelligence agent suspected over the 1983 murder of a Croatian dissident.
The EU Commission is studying the case.
The Commission drafts EU laws and acts as guardian of the EU treaties. Its spokesman, Olivier Bailly, tweeted that Croatia had not met a 23 August deadline for transposing the EAW legislation into its national law. So EU Justice Commissioner Viviane Reding "will bring the matter to the EU Commission next week", he said.
Croatia is in line for billions of euros of EU assistance over the next seven years to modernise its infrastructure and institutions. But the row about Croatia's so-called "Lex Perkovic" could put some of that funding at risk.
Mr Perkovic is suspected of involvement in the murder of a Croatian dissident, Stjepan Djurekovic, in Germany in 1983.
At the time Mr Perkovic was in the communist Yugoslav secret service. He headed Croatia's military intelligence after the country broke away from Yugoslavia in 1991.
On Monday Croatia's Foreign Minister Vesna Pusic said Croatia "should, can and will prosecute the crimes of the communist regime, and that this is not about protecting criminals", the Croatian news website Vecernji List reported.
She was reacting to the EU Commission's expression of concern about the Lex Perkovic.
Earlier, a spokeswoman for Commissioner Reding said "the fact that Croatia's national legislation has been changed a few days before accession, to contradict EU law, is really not a minor issue for us".
"This infringement of EU law goes to the very heart of European judicial co-operation," she told reporters in Brussels.
Croatia became the EU's 28th member state on 1 July, after years of negotiations and wide-ranging adoption of the EU acquis - the bloc's huge rulebook.
Justice was one of the areas where the Commission was most critical of Croatia - it demanded sweeping changes to fight corruption and legal abuses before admitting Croatia as a member.
Similar criticisms were made about the legal systems in Bulgaria and Romania, which joined in 2007. They remain under special Commission monitoring because they are deemed still to be falling short of EU standards.