Chelsea boss Roman Abramovich stops funding Russian football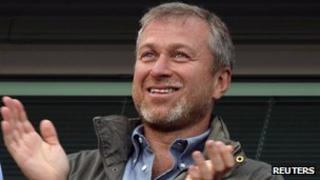 The Russian billionaire and Chelsea FC owner Roman Abramovich is stopping his funding for Russian football.
His spokesman at the investment firm Millhouse said Mr Abramovich's National Football Academy (NFA) in Russia had "fulfilled its objectives".
The news website Forbes says that since 2010, Mr Abramovich has reduced his funding for Russian football. There are no reports of any dispute.
Reports say the NFA funded some 130 new pitches and spent up to $200m (£129m).
The NFA, set up in 2004, also paid for youth coaching programmes in Russia. Mr Abramovich began funding Russian football shortly after buying Chelsea.
In 2005-2010 Mr Abramovich helped to fund the Russian national football team, including the $7m annual salary of its Dutch coach, Guus Hiddink, Russian media report. Mr Hiddink was succeeded as coach by fellow Dutchman Dick Advocaat in 2010.
Russia failed to qualify for the 2010 World Cup in South Africa.
After Mr Hiddink's departure, the NFA stopped covering the expenses of the Russian Football Union. The Russian gas monopoly Gazprom took over that role.
Forbes puts Mr Abramovich 13th in its ranking of Russia's 200 richest businessmen, with a fortune estimated at $10.2bn.