Irish citizens detained in Egypt appear at hearing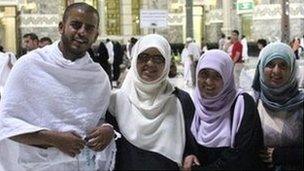 Four members of the Halawa family, who are currently detained in Egypt, have appeared before a prosecutor.
Omaima, 20, Fatima, 22, Somaia, 27, and 17-year-old Ibrahim have been detained for almost two weeks in Cairo.
The four were arrested after security forces stormed a mosque in Cairo. They were subsequently detained.
Khadija Halawa, a sister of the four, said that at a hearing on Thursday, their lawyers requested that they be freed as soon as possible.
She said the lawyers told them that they would find out on Saturday or Sunday if they would be freed.
They also requested that Irish representatives should be allowed to attend the next hearing.
The Department of Foreign Affairs confirmed that two Irish diplomats, who were providing consular assistance to the family, were refused access to the Salam Security camp.
It is understood that diplomats attached to two other states were also refused access.
Meanwhile, Egyptian police captured senior Muslim Brotherhood official Mohamed El-Beltagi as they pressed on with a crackdown that has put most of the Islamist group's top leaders behind bars.
It comes as Egypt's military moves against Brotherhood leaders following the ousting of former President Mohammed Morsi.
Hundreds of people were killed earlier this month when security forces stormed protest camps in the capital.
Most of those in the Cairo mosque had been protesting against the coup that removed the democratically-elected Muslim Brotherhood government led by President Mohammed Morsi.
However, it has been reported from Cairo that the Halawas told the prosecutor that they had been in the area and sought refuge after violence broke out.