Lead stolen from south Belfast businesses
By Robbie Meredith
BBC News NI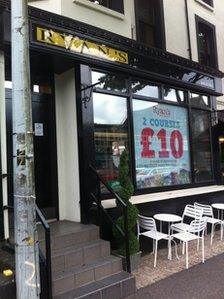 Police are investigating a number of lead thefts from businesses along one of Belfast's busiest roads.
Bars and cafes on the Lisburn Road, in the south of the city, have been among those targeted by thieves in recent weeks.
Repairs to the roof of one business cost almost £3,000.
The PSNI response to the thefts was raised at a meeting of the south Belfast Police and Community Safety Partnership (PCSP) earlier this week.
Lead was stolen from Divine Angels coffee shop in early August.
Its owner, Catherine Lyttle, said that the shop had been damaged as a result of the overnight theft.
"We came into work and found a severe amount of water on the ground, and our roof," she said.
"The wiring from our telephone lines was also hanging off the side of the building."
The coffee shop is in a busy area close to Belfast City Hospital and Ms Lyttle said the theft was "audacious".
"The bar across the road from us is quite busy and when we leave in the evenings we would see a lot of people about," she said.
"It's hard to believe that someone comes along in the middle of the night and steals lead from your premises."
Less than one hundred yards away, the duty manager of Ryan's bar and restaurant, Terry Lawlor, had a similar story.
"The staff came in one morning, and basically there had been heavy rain which started seeping right through the building," he said.
"Someone went up to assess it and found the lead had been stolen. There were slates all over the place.
"The water seeping through the bar put the customers at risk as well."