Pope Francis names Pietro Parolin as secretary of state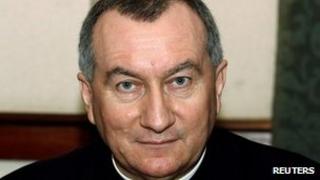 Pope Francis has named a new secretary of state, in what is seen as his most significant appointment since he became leader of the Catholic Church in March.
Archbishop Pietro Parolin, a 58-year-old Vatican diplomat, replaced Cardinal Tarcisio Bertone, 79, who is retiring.
Cardinal Bertone, appointed by Francis' predecessor Pope Benedict, had been widely criticised over last year's so-called "Vatileaks" scandals.
Leaked documents revealed corruption and infighting at the Vatican.
The secretary of state heads the Roman Curia, the central administration of the Catholic Church, and is the Pope's chief adviser.
Archbishop Parolin, an Italian, is currently the Vatican's nuncio - or ambassador - in Venezuela.
In a statement, he said he would give the Pope his "completely availability to work with him and under his guidance for the greater glory of God, the good of the holy Church and the progress and peace".
The BBC's David Willey in Rome says his appointment marks the beginning of the replacement or dismissal of several former key members of Benedict's administrative team.
Pope Francis has also promised to stamp out abuses at the Vatican bank - officially known as the Institute for Religious Works.
Shortly after his appointment, he set up a commission to investigate the bank and report back to him personally.
He later issued a decree to combat money-laundering.
The Vatileaks scandals erupted in 2012, when former Pope Benedict's butler, Paolo Gabriele, published confidential documents from Vatican offices alleging widespread corruption and mismanagement.
Gabriele was convicted and sentenced to 18 months in jail for stealing the papers, but he was subsequently pardoned by Benedict.