Striking Bosnia miners refuse to leave coal mine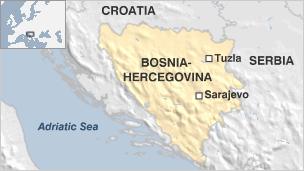 About 140 miners have barricaded themselves inside a coal mine in northern Bosnia-Hercegovina in a dispute over pay and recruitment.
They have been holed up between 100m and 250m (330-820ft) below ground at the Djurdjevik mine since Monday.
Union leader Said Muhic said they were refusing to negotiate with the managers and threatening to go on hunger strike.
The miners are demanding a wage increase and are angry at the recent hiring of an administrative official.
The Djurdjevik mine employs more than 1,000 people and produces about 600,000 tonnes of coal per year, supplying the power plant at the nearby town of Tuzla.
The government of Bosnia's autonomous Muslim-Croat federation is majority owner of EPBiH, the utility that employs operates the mine.
Mr Muhic said the underground strike was triggered by the decision of the mine's supervisory board to appoint a new company secretary, violating an agreement with the government to hold off recruitment of administrative staff until the miners' wages went up.
"The situation is really dramatic," he told state radio.