Irish soldiers ready to go to Syria's Golan Heights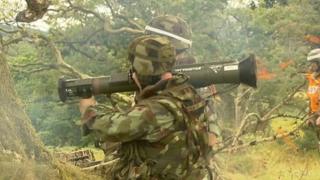 There is a hint of fog and morning dew as Irish soldiers take cover from mortar and gun fire behind hedges and trees in the Wicklow mountains.
They are training to get ready for their United Nations mission in the Middle East.
Their destination is the Golan Heights, a small mountainous area in south-western Syria currently occupied by Israel.
Lieutenant-Colonel Brendan Delaney will be leading the operation.
"We are the first reserve company for the mission. So, if a situation arises, such as the reinforcement of a position or the evacuation of personnel, that will be our primary task," he said.
It could well be a dangerous and challenging operation given the area is not too far from the Syrian capital Damascus.
But Comdt Tim O'Brien, the second-in-command, believes his soldiers are fully prepared - even for a possible chemical attack.
"I'm confident that our soldiers are well-equipped, well-trained and well-prepared for any eventuality, including chemical weapons", he said.
The Irish UN contingent were due to arrive in two stages.
The first 115 were supposed to leave this week before the UN asked them to delay their departure.
Those 115, plus another 90 soldiers, will now be deployed to the Middle East later this month.
"I'm looking forward to it. It's my first trip as it is for a lot of the lads," Pte Keith Callaghan said.
"I'm feeling very confident because of all the training we've done so far."
'Worrying'
Cpl Claire Powell said it was "always a privilege to serve under the tricolour".
"And under the United Nations as well. It's one of the best elements in the job and gives you great pride in the country," she said.
This week the Irish Defence minister, Alan Shatter inspected the soldiers destined for the Golan Heights.
The Irish government approved their deployment as UN monitors in July.
Mr Shatter also believes the military men and women are well prepared.
"I've every confidence in the training that they've had and in the very important role that they can play to ensure that the dreadful difficulties in that region don't further spill over into some conflict between Israel and Syria", he said.
Looking on as the soldiers were inspected were their families and loved ones.
Joanne Grimes said she was nervous "but hopefully everything will be alright."
Tommy Ashe called the situation "worrying".
"Especially, with the civil war over there; we're all scared about that," he said.
"What would happen if the Americans attack or send something in?".
Meanwhile, Bronagh Hickey said she was planning ahead.
"We know when he's coming home and we plan what we're going to do. So, if he's going to be home for Christmas we'll plan for that and if he's not then we'll have a second Christmas when he does come home."
The soldiers tour of duty is due to last six months.