Bosnian miners leave pit after strike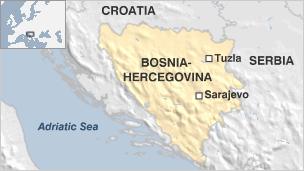 About 140 coal miners who barricaded themselves inside a pit in northern Bosnia-Hercegovina in a dispute over pay and recruitment have resurfaced.
Officials said a deal had been reached between the miners, management and the mine owners.
The miners had been between 100m and 250m (330-820ft) below ground at the Djurdjevik mine since Monday.
They were demanding a wage increase and were angry at the recent hiring of an administrative official.
The Djurdjevik mine employs more than 1,000 people and produces about 600,000 tonnes of coal per year, supplying the power plant at the nearby town of Tuzla.
The strike was triggered by the decision of the mine's supervisory board to appoint a new company secretary. Union leader Said Muhic had said this violated an agreement with the government to hold off recruitment of administrative staff until the miners' wages went up.
The government of Bosnia's autonomous Muslim-Croat federation is majority owner of EPBiH, the utility that employs operates the mine.
General manager Zijad Rahimic told Reuters news agency on Wednesday that the mine had agreed to dismiss the company secretary and begin hiring more production workers.
An agreement was also reached over pay.
A spokeswoman for EPBiH told Reuters that the overnight talks had ended positively, but that negotiations over pay and conditions would continue.
"All miners have now left the mine," she said.