German Christian sect raided and children put in care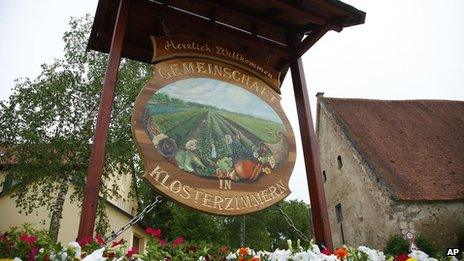 German police have raided two communities in Bavaria belonging to a Christian sect and removed 40 children.
There was new evidence of ongoing child abuse by members of the Twelve Tribes sect, officials told Germany's Spiegel Online website.
Witnesses of the dawn raids said there was no resistance from the group members, who denied the allegations, Augsburger Allgemeine reports.
The US-founded sect says it believes in spanking children if disobedient.
But it said a "small reed-like rod" was used intended only to inflict "pain and not damage" and was not abusive.
"We know that some people consider this aspect of our life controversial, but we have seen from experience that discipline keeps a child from becoming mean-spirited and disrespectful of authority."
More than 100 officers were involved in the operation to remove the children, who have been placed temporarily with foster families.
They were taken from two locations run by the group - 28 from a monastery and farm of Klosterzimmern near Deiningen town and 12 from a communal house in the village of Wornitz.
Twelve Tribes, which follows teachings in the Old and New Testaments as God's direct word, has come to the attention of the German authorities before, especially for its refusal to send its children to public schools.
Recently local authorities withdrew an education licence from a Twelve Tribes school at Klosterzimmern because of a lack of suitable teachers.
"The action today has nothing to do with the subject of compulsory education," a spokesman for the Bavarian state education ministry told Augsburger Allgemeine.
Related Internet Links
The BBC is not responsible for the content of external sites.