Election video by German IG Metall union goes viral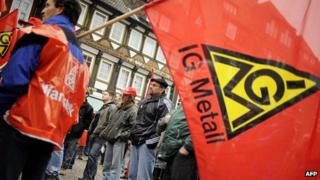 One of Germany's biggest trade unions has won praise for a humorous election campaign video that has gone viral on the internet.
IG Metall's video, called "Go and vote - Metallmix 2013", has had more than 1.2 million clicks on YouTube.
Opinion polls suggest that Chancellor Angela Merkel, a conservative, has an unassailable lead in the run-up to the 22 September vote.
But IG Metall's message is that there is still everything to play for.
The pacy three-minute video is action-packed, with clips of sporting accidents interspersed with Mrs Merkel and rival candidates.
The format contrasts with the predictable style of many traditional party political broadcasts.
It appears to be aimed especially at younger voters, warning against apathy in an election that for many may lack fizz.
Mrs Merkel's televised debate with her main rival, Social Democrat (SPD) leader Peer Steinbrueck, was no game-changer. It was the only TV debate they will have in this campaign - yet much of the comment was triggered by Mrs Merkel's necklace, in patriotic red-black-gold colours.
Voter turnout in Germany's last federal election, in 2009, was 72% - the lowest post-war.
Real issues
The IG Metall video opens with shots of "Germany relaxing" - men doing some stretches, women in a whirlpool - but later highlights issues that should concern ordinary workers, such as low wages, childcare places, pension worries, the quality of training.
The metalworkers' union created it in less than five weeks, with help from a Berlin firm, MovingIMAGE24, the popular German daily Bild reports.
It touches on popular topics for many voters - football, a top German model, skydiver Felix Baumgartner.
"Is everything really decided already?" it asks, then shows in quick succession cyclists, skaters and footballers coming to grief just when victory seemed inevitable.
A spokeswoman for IG Metall, quoted by Bild, said "we're not advising people how they should vote, as a union that values unity, but we do want to draw attention to important issues for workers".
Even the employers' organisation Gesamtmetall shared the video with its followers. The union spokeswoman, Ingrid Gier, said the video's popularity made it "a terrific success".