Turkish protester Ahmet Atakan's death sparks clashes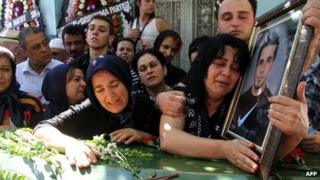 Protesters have clashed with police over the death of a 22-year-old demonstrator in the southern Turkish city of Antakya.
Ahmet Atakan died late on Monday evening, with officials saying his death was the result of a fall.
Activist groups also called for protests in other Turkish cities, including Istanbul.
Sporadic anti-government protests have continued in Turkish cities since a wave of demonstrations in the summer.
Those earlier demonstrations were sparked by plans to redevelop a park in central Istanbul, but snowballed into a broader anti-government movement.
Five other people have been killed in clashes between protesters and security forces in Turkey in recent months.
'Intolerance' of dissent
The protest that Mr Atakan had attended was called to voice anger at police handling of previous demonstrations.
In June, another protester, Abdullah Comert, 22, died in Antakya during the initial wave of protests.
In a statement given to semi-official news agency Anadolu, the office of the governor of Hatay province said Mr Atakan had died "after he fell from a building" and that an investigation had been launched into his death.
Protesters were also gathering in Istanbul on Tuesday evening in response to Mr Atakan's death, with police using tear gas to disperse them. Some demonstrators could be seen throwing projectiles at the police, reports say.
Last week students in the capital Ankara clashed with police for several days over plans to build a road across part of a university there.
In May, protests over plans to redevelop Gezi Park in central Istanbul sparked a nationwide wave of protests, the most serious threat yet to the government of Prime Minister Recep Tayyip Erdogan.
The protest movement tapped into concern felt in some sections of Turkish society that Mr Erdogan's Islamist-rooted government has become increasingly authoritarian and intolerant of dissent.