Mass anti-government march in Poland against reform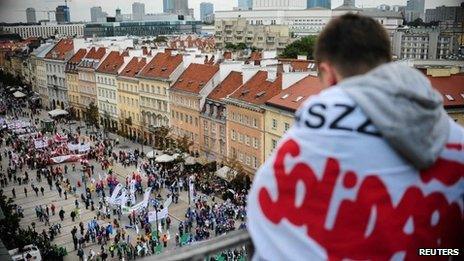 Tens of thousands of Poles have marched through the capital, Warsaw in the last of four days of protests against proposed labour law changes.
The protesters demanded a higher minimum wage, greater job security and the repeal of a law raising the retirement age to 67.
Many carried banners calling for Prime Minister Donald Tusk to resign.
The ruling centre-right coalition's popularity has plummeted to its lowest level since Mr Tusk took power in 2007.
The rally was one of the largest in Poland in recent years, bringing together people from both the right and the left of the political spectrum.
Organisers of the march said about 120,000 people participated, while city authorities put the figure at 100,000.
Protesters waved flags and blew whistles as they marched through the streets of the capital.
Some held banners saying "We are Coming to Get You'' and "Tusk's government Must Go".
"We're becoming slaves in our own country," said Marek Duda, the leader of the right-of-centre Solidarity Union.
The BBC's Adam Easton, in Warsaw, says the rally was not about austerity - Poland is the only country in the European Union to have avoided a recession since the crisis began.
But the economy is just coming out of its worst slump in years, and the protesters say it still lags behind its neighbours to the west.
"Of course it's not very bad - we are not Greece, we are not Spain - but it's time to do something reasonable in order not to become the next Greece. I think the time is now for some changes", said Karolina, a 45-year-old teacher.