Merkel allies claim key Germany Bavaria vote triumph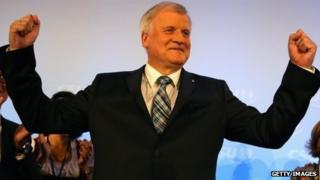 Close allies of German Chancellor Angela Merkel are claiming victory in elections in the state of Bavaria.
The results are being seen as a key indicator ahead of a general election next week.
Exit polls suggest the Christian Social Union (CSU) has won about 49% of the vote, winning back a majority in the state legislature.
But support for the minority party in Mrs Merkel's government - the Free Democrats - appears to have collapsed.
The BBC Berlin correspondent says that if the voting pattern was repeated in next week's election, the chancellor would have to seek new allies with whom to form a coalition government.
CSU leader and Bavarian Prime Minister Horst Seehofer told elated supporters that his party's performance was a "great success".
"The CSU is a people's party and we are deeply rooted in the Bavarian population. Every second Bavarian voted for us," he said.
Correspondents say that the CSU's strong performance fulfilled a pledge made by Mr Seehofer to Mrs Merkel that his party would set an upbeat tone for the national poll on 22 September.
However the results were a setback for the pro-business Free Democrats (FDP), with whom Mrs Merkel governs Germany in a centre-right coalition.
It slumped to just 3% of the vote, below the 5% level needed for assembly seats.
"This is a heavy defeat... But our response now is: let's get going... Bavaria is different. Now it is about Germany," said FDP leader Philipp Roesler, who described the results as a "wake-up call".
'Gateway to paradise'
The CSU has ruled Germany's wealthiest state for 56 years.
Its "laptop and lederhosen" strategy promotes hi-tech firms and local traditions.
At 3.8%, Bavaria has the lowest unemployment in Germany, where the national average lies around 6.8%.
The southern region is also home to some of the world's largest carmakers like Audi and BMW.
Mr Seehofer has described Bavaria as "the gateway to paradise".
Some 9.5 million people were eligible to vote in Sunday's ballot.
The CSU has now regained the absolute majority in the regional parliament which it lost in 2008 after the party's worst election results in six decades.
CSU lawmakers make up nearly a quarter of Mrs Merkel's centre-right bloc. She is campaigning for a third term in office on 22 September.
Her main challenge is from the centre-left Social Democrats (SPD), who are currently trailing behind in opinion polls.
SPD leader Peer Steinbrueck downplayed the significance of the Bavarian vote, saying that "the federal election isn't being decided here".