Greek crisis: Mass strikes over civil servant job cuts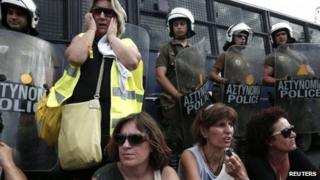 A week of mass strike action has begun in Greece in protest at large public sector layoffs and forced transfers.
State school teachers walked out on Monday in the first of a planned five-day rolling strike.
Civil servants have called a separate two-day strike on Wednesday, backed by universities, doctors and lawyers.
The job cuts are part of bailout conditions imposed by international creditors, due to meet in Athens to discuss the next loan instalment.
So far Greece has received two aid packages totalling about 240bn euros (£205bn).
It will need around 10bn euros more to cover a funding gap.
Stiff resistance
A number of striking school guards clashed with riot police outside the Ministry for Administrative Reform in Athens on Monday morning.
Security forces fired tear gas to disperse the protesters and three people were taken to hospital with light injuries.
Government officials were due to meet union representatives later on Monday.
Officials from the so-called lending troika - the European Commission, the European Central Bank and the International Monetary Fund - will convene in Athens this week to decide on the next 1bn-euro instalment.
In exchange for the loans, Prime Minister Antonis Samaras has agreed to put 25,000 civil servants on a reduced salary this year before being transferred or dismissed.
It is the first time under the Greek constitution that public sector workers will lose their jobs, with 15,000 redundancies expected by the end of 2014, the BBC'S Mark Lowen, in Athens, reports.
Some 4,500 civil servants - mostly teaching staff - were already redeployed at the end of July.
Greece insists that its notoriously inefficient and bloated public sector needs reform, our correspondent says.
But with unemployment nearing 30%, it is a hard argument to sell to the people, he adds.
The prime minister recently announced that the recession was slowing and Greece would soon wipe out its deficit.
However, public debt remains unsustainably high and the government has faced stiff resistance from those who risk losing their jobs in the coming months.
Greece's economy has shrunk by 23% since 2008. International lenders expect it to diminish by a further 4.2% this year.