Greek public sector workers strike over job cuts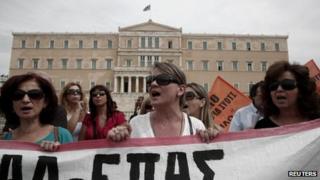 Doctors, teachers and other workers are going on strike across Greece in protest at planned civil service cuts and forced transfers.
The main public sector union has called a 48-hour stoppage, and a partial private-sector strike is also planned.
The trigger is a plan to place 25,000 civil servants on a reduced salary before being redeployed or dismissed, with 15,000 jobs to go by 2015.
The strike comes as Greece's international creditors meet in Athens.
The job cuts are part of bailout conditions for the next 1bn euro (£0.8bn) tranche of Greece's loan set by the so-called lending troika - the European Commission, the European Central Bank and the International Monetary Fund.
So far Greece has received two aid packages totalling about 240bn euros. It will need about 10bn euros more to cover a funding gap.
'Older staff at risk'
Public sector workers are due to hold rallies across Greece on Wednesday and Thursday, urged by the union ADEDY.
It is the first time under the Greek constitution that public sector workers will lose their jobs and workers say older, vulnerable staff will be targeted, adding to record unemployment of almost 28%.
But the government says it must reform a public sector that has for decades grown too large.
Prime Minister Antonis Samaras says the deficit will soon be wiped out and his country could be back to pre-crisis levels in six years.
However the BBC's Mark Lowen in Athens says that optimism is still not filtering down to the streets; the jobless rate keeps rising and there is no sign of economic growth.
Monday saw the start of a five-day rolling strike over the cuts, by teachers at state high schools.
A number of striking school guards clashed with riot police outside the Ministry for Administrative Reform in Athens.