Silvio Berlusconi step closer to expulsion from Italy Senate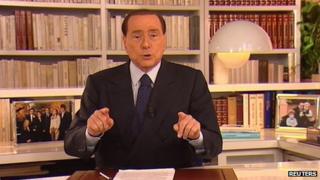 Supporters of Silvio Berlusconi have lost an Italian Senate committee vote, bringing his expulsion from parliament a step closer.
Allies of the former prime minister and convicted fraudster had tried to block his disqualification from public office, but this was voted down.
Earlier, Berlusconi vowed to stay in politics even if he was expelled.
There had been fears his supporters could topple the ruling coalition over the issue.
According to a 2012 anti-corruption law, Berlusconi should be ejected from the upper house after the supreme court last month upheld his fraud conviction.
The decision will now need to be confirmed by a vote of the full Senate next month.
The expulsion process will now go ahead and in the coming weeks Berlusconi is very likely to be formally barred from holding public office, the BBC's Alan Johnston reports from Rome.
However, in an emotional televised address before the vote, Berlusconi made clear that he has no intention of simply fading away, our correspondent reports.
Election fears
"I will always be with you, at your side, expelled from parliament or not," Berlusconi said in the speech.
There had been fears he might use his speech to fulfil his threats to topple the coalition government, but this was not mentioned in the speech.
Berlusconi's PdL party had repeatedly said it would pull out of the government if members of Prime Minister Enrico Letta's Democratic Party voted against him.
That would lead to snap elections.
Italy's president and business leaders have warned against new polls while Italy is still mired in recession, saying they could reignite fears about Italy's stability and financial position.
Analysts say voters might turn against Berlusconi in such circumstances.
The tycoon used his address to announce the relaunch of his party under its former name Forza Italia (Go Italy), calling it the "last chance before catastrophe".
Berlusconi was sentenced to a year in jail, but because of his age is expected to serve house arrest or community service.
It was his first conviction to be confirmed on appeal in two decades of fighting legal cases.
Berlusconi says he has been targeted in a campaign by left-wing judges, and repeated those allegations in his address, saying magistrates were perverting democracy, and calling for sweeping judicial reform.
He is currently also appealing against convictions for paying for sex with an underage prostitute and for being involved in the publication of an illegally obtained wiretap.