Savita Halappanavar's widower to sue HSE over death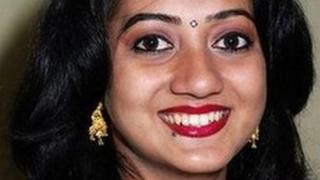 Savita Halappanavar's widower has launched legal action against the Republic of Ireland's health service, alleging negligence over her death.
The pregnant 31-year-old died in a Galway hospital last year.
She had asked for a termination after being told she was having a miscarriage, but staff refused. Days later, she died from infection.
Her widower, Praveen, is to sue the Health Service Executive (HSE) and her obstetrician, Dr Katherine Astbury.
Mr Halappanavar's solicitor, Gerard O'Donnell, said summons papers were filed at Dublin High Court on Friday.
'Right to life'
The papers name the HSE and Dr Astbury as co-defendants in a civil action.
Mr O'Donnell said the case was being taken on grounds of alleged negligence and also on the grounds that the co-defendants had failed to uphold Mrs Halappanavar's constitutional right to life.
The Halappanavar family believe Savita would have survived had she received an abortion.
The solicitor added that his client was not satisfied with aspects of the inquest held in Galway earlier this year or with the internal HSE review of the case.
Mr O'Donnell said that if the civil action is contested, the case would go to a full court hearing and they would get a better opportunity to cross-examine witnesses than had been afforded to them at the previous hearings.
'Medical misadventure'
Both the inquest and HSE review identified failings in the care that Mrs Halappanavar received after she was admitted to Galway University Hospital last October.
The jury at her inquest returned a verdict of medical misadventure.
It found that the cause of her death was septic shock and E coli infection, but it did not attribute blame.
The HSE review concluded staff did not adequately monitor her deteriorating condition and failed to "offer all management options to a patient experiencing inevitable miscarriage".
The review also found existing clinical guidelines relating to the management of sepsis and septic shock were not correctly adhered to by staff, who had failed to realise the "gravity of the situation".