Two men die in separate stabbings in Dublin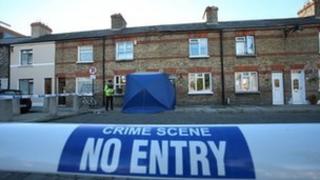 Two men have died in separate stabbing incidents in Dublin, that happened fewer than 24 hours apart.
In the latest, a 51-year-old died after he was stabbed at a house in Ormond Square, close to the city centre.
The victim, who lived in the area, was pronounced dead at the scene at 15:00 BST on Monday.
In the earlier stabbing, a 32-year-old man was wounded at a house in Kiltalown Way, Tallaght, at about 18:40 BST on Sunday. He later died in hospital.
The Irish state broadcaster, RTÉ, named the victim as James Humphries, a father-of-one who was originally from Glenshane in Tallaght.
A man in his 30s was arrested at the scene and is being questioned by police.