Thousands join fresh Greece protests against Golden Dawn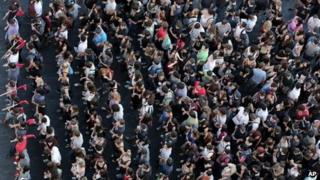 Thousands of people have joined protests in Athens and elsewhere in Greece against the far-right Golden Dawn party.
In Athens, clashes erupted between protesters and police as police reportedly blocked attempts to march on Golden Dawn offices.
"The days of tolerance are over," one banner was quoted as saying.
The protests are part of a wave of outrage following the 18 September murder of an anti-racist musician.
A man arrested for stabbing Pavlos Fyssas - stage name Killah P - admitted to the incident and told police he was a supporter of Golden Dawn, though the party vehemently denies any link.
Amid claims of official inaction, the government has launched a crackdown, including raids on Golden Dawn premises and the suspension of police believed to be sympathisers.
Greek police arrested a colleague who was reportedly working as a bodyguard for the party, during a raid on its offices in the western town of Agrinio on Tuesday.
"Over the last three years there are many incidents in which fellow officers tolerated violence by Golden Dawn members," Christos Fotopoulos, head of the Greek association of police staff, told Skai radio, according to AFP news agency.
The government has also begun an inquiry into the activities of Golden Dawn, which won nearly 7% of the vote in 2012 elections.
In recent months, Golden Dawn has been accused of perpetrating attacks on migrants and political opponents - including an attack on Communist Party members earlier this month said to have left nine people in hospital.
The alleged attacks have taken place against a backdrop of social unrest linked to the economic crisis in the debt-ridden country.
The unemployment rate has reached 27% - and nearly 65% among those aged 15-24 - and social spending has been slashed, triggering a scramble for resources that has seen migrants targeted.
"First it was the immigrants, then Fyssas, tomorrow it could be your son or daughter - everyone needs to understand this," Vangelis Georgountzos, 59, told Reuters news agency as he gathered ahead of the protest in Athens' central Syntagma Square with his teenage daughter.
Some 10,000 protesters reportedly joined the Athens protest, with another 2,000 reported in Thessaloniki, Greece's second city.
Pictures of the protests in Athens on Wednesday night showed clouds of tear gas fired by police and protesters hurling rocks and petrol bombs.
A number of arrests were reported on social media.