Italian president Napolitano rebukes Berlusconi allies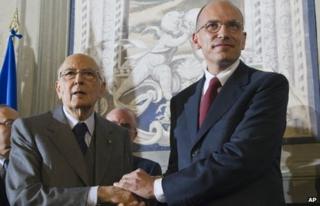 Italy's President Giorgio Napolitano has chided allies of Silvio Berlusconi, who are threatening to scupper the government over his legal woes.
The ex-PM is facing expulsion from the Senate following his fraud conviction.
Members of his People of Freedom party say they will pull out of the coalition government if he is removed.
But Mr Napolitano said it was "absurd" of them to complain of a "coup" by magistrates against Berlusconi, and that court rulings must be respected.
"The application of a definitive conviction... is a constituent part of any state based on the rule of law," he said.
He said neither he nor Prime Minister Enrico Letta could intervene in the case.
"There is still time, and I hope it is used, for People of Freedom lawmakers to find a way to express their political and human support for their party president - if indeed that is their aim - without threatening the work of two branches of parliament," Mr Napolitano said.
If the party pulled out of the government, it would lead to snap elections.
Italy's president and business leaders have warned against new polls while Italy is still mired in recession, saying they could reignite fears about Italy's stability and financial position.
'Resignation signatures'
According to a 2012 anti-corruption law, Berlusconi should be ejected from the upper house after the supreme court last month upheld his fraud conviction.
But, after a party meeting on Wednesday, Berlusconi's MPs threatened to resign en masse if the Senate votes next Friday to expel their mentor.
The Italian news agency Ansa cited sources who said party members were already handing signatures for their resignations to the party whip.
The billionaire three-time prime minister has been sentenced to a year in prison, but because of his age is expected to serve house arrest or community service.
It was his first conviction to be confirmed on appeal in two decades of fighting legal cases.
Last week Berlusconi vowed to stay in politics even if he lost his place in the Senate.