UK opposes extra EU budget funds for 2013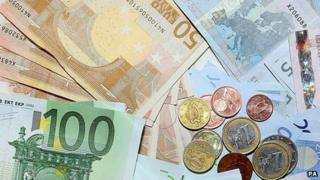 The UK government says it objects to a 3.9bn-euro (£3.3bn) top-up for the EU budget demanded by the European Commission - just as the UK opposed a 7.3bn-euro top-up earlier this year.
The UK was outvoted on the extra 7.3bn for this year's EU budget - so the UK will have to pay about 875m euros more.
If the same happens over the 3.9bn then the UK will have to pay another 470m.
The Commission says bills rolled over from 2012 have to be paid - mostly for EU projects in struggling regions.
"When citizens across Europe are seeing their family budgets under pressure, it is unjustifiable that the European budget should be going up in this way," a UK Treasury spokesperson told BBC News.
"The UK did not support the budget increase earlier this year and does not support this one."
The extra allocation is separate from the EU's long-term budget for 2014-2020, the Multiannual Financial Framework (MFF). The MFF spending targets were agreed in tortuous negotiations earlier this year.
A Foreign Office spokesperson said the UK and some like-minded member states would urge the Commission to "reprioritise expenditure" within the existing budget framework.
"There is scope for the Commission to make savings and meet these costs through existing resources, without asking for additional funds" the spokesperson told the BBC.
Future cuts
Most of the 3.9bn is to cover cohesion projects - EU funding to help disadvantaged parts of Europe create jobs and narrow the gap with prosperous regions.
A UK government source said that in the 2014-2020 MFF budget the annual ceilings would be about 5bn euros lower than currently, because the UK and some other countries pushed hard for a cut in the EU budget. So UK taxpayers' contributions to the EU will be lower in future, the source said.
The budget figures also require approval by the European Parliament before becoming law.
Back in May the European Council - the grouping of EU government leaders - agreed to an extra 7.3bn, under the qualified majority voting system.
The Commission had originally called for an extra 11.2bn euros for this year's budget.
The 3.9bn euros, demanded by the Commission on Tuesday, would bring the 7.3bn up to that total of 11.2bn.
The 2013 budget was agreed last December and was set at 132.8bn euros - a 2.4% increase on the 2012 budget.
The Netherlands, Sweden, Finland and Denmark backed the UK in opposing the extra funds, called an "amending" budget, an EU source told the BBC in May.