Greece crisis: Inside the student-occupied schools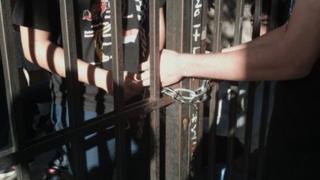 Drastic public spending cuts in Greece are having severe consequences for public services including education. With teachers and students now taking direct action, some universities are warning that a whole semester could be written off.
Last Monday was no ordinary school day for 17-year-old Enea Tola.
At 06:00, Enea and several other senior students climbed the fence of their school and locked the doors. They informed the principal that the students had taken over the school in central Thessaloniki, Greece's second city.
On the same day, hundreds of students across the country were staging or preparing to stage their own school takeovers.
By the end of last week, more than 100 high schools in Greece had been occupied.
The students took the baton from teachers, who had begun rolling strikes only a few days after the school year began.
Teachers were protesting against the lay-offs and forced job transfers that are part of Greece's bailout agreement with international lenders.
After two weeks the strikes ended and students stepped in.
"Our main goal is to demonstrate our solidarity with our teachers, who could not go on striking indefinitely," says Enea.
"It is the only way to make ourselves heard."
At Enea's school, no outsiders are allowed to enter the premises. Some students guard the main entrance, while 10 to 15 others spend the night there, turning their desks into beds.
In one classroom, a girl is diligently sweeping the floor.
"You came on cleaning day. We don't want to vindicate those accusing us of vandalising our schools," says Enea, the son of Albanian immigrants, who moved to Greece when he was four years old.
"We have been severely affected by the crisis. Last year many of our friends fainted from malnutrition. We cannot sit in silence."
Polarising issue
Illegal in theory, school takeovers are tolerated by the authorities.
Across the street from another Thessaloniki secondary school in the suburb of Kalamaria, a policeman is watching as the students gather in the yard to debate their next moves.
"The police do not intervene. They do not want to go against the people," says one student.
Many parents are unhappy.
"First it was the teachers' strikes, now the student takeovers, soon it will be Christmas vacation. No wonder our education is in such a mess," says the mother of a 16-year-old girl, who did not wish to be identified.
And others believe children are learning the wrong lessons.
"What will happen to 12- to 15-year-old students in junior high school, who learn at this tender age how to break the law?" wrote Paschos Mandravelis in his column for the conservative daily, Kathimerini.
For many teachers, however, the turmoil is only a natural consequence of austerity policies imposed by the so-called troika - the officials from the European Commission, the International Monetary Fund and the European Central Bank.
Τhe number of teachers in Greek high schools has been cut by 18,000 since last year; 100 vocational schools have been closed; and thousands of teachers are placed on reserve.
According to the EU Commission, education spending in Greece, one of the lowest in Europe even before the crisis, has remained steady at around 4% of GDP since 2008. But since the Greek economy has shrunk by almost 25% over the same period, education has suffered an equivalent cut in its actual funding.
Thomai Pagiantza, who teaches at an elementary school in Alexandria, a town in northern Greece, says the problems are so grave that the union should have continued its strikes.
"We have suffered dramatic wage cuts. With 14 years of experience, my monthly salary has been cut from 1,400 to 950 euros [£1170 to £790]. But we are not fighting for money or privileges, as many Greeks think. We are fighting to save education," she says.
Brink of collapse
Greek universities are also paralysed - not by student takeovers, but by the rolling strikes of administrative staff. The governing bodies of several institutions suspended their activities last week, saying they can no longer function.
Greek universities have to contribute 1,349 employees to the total reserve pool of 25,000 civil servants, who will receive reduced pay and could lose their jobs if they are not transferred to other government agencies.
The situation is aggravating social tensions. Thodoris Karagiannis, a postgraduate student and senior youth member of the ruling conservative New Democracy party, calls the blockades of universities "extortion, with students and parents being the victims".
The government insists that the reforms will make Greek education more effective and less wasteful.
But university employees say they are striking to save tertiary education and not just their jobs.
Last Friday, dozens gathered outside the administrative building of Thessaloniki's Aristotle University, which is the largest in the country with approximately 100,000 undergraduate and postgraduate students.
Already on strike for 14 days, they were sitting by the blindfolded statue of Aristotle which dominates the courtyard, drinking coffee and talking about their bleak future.
Yannis Kourmoulis, the president of the Administrative Personnel Association, says they will keep fighting.
"Some department secretariats are staffed by a single employee... How on earth will universities do their job if they lose another 40% of their staff?"