Bulgarian refugee chief fired amid Syrian influx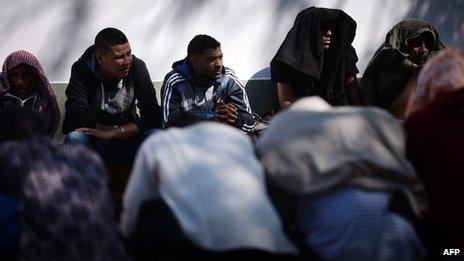 The head of Bulgaria's refugee agency has been dismissed as the EU country struggles to cope with increasing numbers fleeing the conflict in Syria.
Nikola Kazakov was fired by Bulgarian Interior Minister Tsvetlin Yovchev for failing to handle the influx.
The UN's refugee agency last month described Bulgarian centres for displaced Syrians as "dire".
Mr Kazakov said Bulgarian leaders had ignored his warnings of a refugee crisis even as they asked for EU help.
Bulgaria is the gateway to the European Union for refugees fleeing Syria via Turkey, many crossing the border illegally to seek asylum.
It now receives up to 100 mainly Syrian refugees a day - a sharp increase on the four per month arriving a year ago.
Bulgarian officials said on Wednesday that 2,377 migrants had been detained on its border in September alone.
The UN's refugee agency said that 80-85% of those held were likely to be Syrian.
'Inadequate organisation'
Prior to September, the agency said Bulgaria had received just 2,000 of the 47,000 Syrians seeking refuge in the EU since conflict began in 2011.
But it criticised the government in Sofia for processing asylum applications too slowly and for housing refugees in inadequate conditions.
"Although overall numbers are low relative to some other European countries Bulgaria's asylum system cannot keep pace with the new arrivals," the UN refugee agency's chief spokeswoman, Melissa Fleming, said last month.
The agency described crowded dormitories where people slept in corridors, more than 100 shared a single bathroom, and children went without schooling.
Ms Fleming said the conditions were "unsafe and dire".
Mr Yovchev, the interior minister, said Mr Kazakov's "inadequate organisation" was to blame for the problems at the country's three refugee centres.
But Mr Kazkov insisted he had warned the government of an impending refugee crisis in June but was ignored, the Sofia News Agency reported.
Last month Mr Youchev said more than 4,000 people were seeking asylum in Bulgaria, a number he called a "disproportionate burden" for the EU's poorest nation.
He appealed for other EU states to host some of its refugees and provide financial assistance.
He also said Bulgaria's role on the frontier of the EU should be rewarded by including it in the bloc's visa-free Schengen travel area.
"We are guarding the border... neutralising the risks for Europe and carrying a burden that is too big for our capacities," he said, according to AFP.
"It will be unjust to keep those who guard the gate outside the house. I hope that our partners realise that."
More than two million people have fled Syria since the war broke out, mostly to neighbouring Lebanon, Turkey, Jordan and Iraq.
Related Internet Links
The BBC is not responsible for the content of external sites.