Russia levels piracy charges at whole Greenpeace crew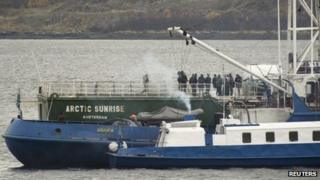 Russian authorities have charged 16 more Greenpeace activists with piracy over a protest on an Arctic oil rig.
The entire crew of 30 on board the Arctic Sunrise, from which the protest was launched, have now been charged, including six from the UK.
The group was arrested last month after two of the protesters tried to board an oil platform owned by the Russian state-controlled firm Gazprom.
Greenpeace has called the charges "irrational, absurd and an outrage".
The last 16 activists were taken in police vans to the Murmansk offices of the Investigative Committee, Russia's equivalent of the FBI, on Thursday, the BBC's Daniel Sandford reports from Moscow.
They were formally charged with "piracy of an organised group", an offence that carries a 15-year prison sentence.
Charges 'extreme'
The British men charged on Thursday were Frank Hewetson from London and Iain Rogers from Exeter.
On Wednesday, those charged from the UK were Kieron Bryan, a freelance video producer from London; Anthony Perrett from Newport in Wales; Alexandra Harris, originally from Devon, and Philip Ball from Chipping Norton.
The group's international executive director, Kumi Naidoo, said on Wednesday that the charges were "extreme and disproportionate".
The Investigative Committee said earlier this week that peaceful aims would not justify what it has described as an "attack" that posed a threat to the rig and its personnel.
Last month the Greenpeace ship approached the Prirazlomnaya platform, Russia's first offshore oil rig which is scheduled to start operating by the end of the year.
Two activists tried to climb up on to the platform and tie themselves to it, in an attempt to draw attention to the issue of the expansion of oil and gas exploration in the Arctic Ocean.
They were detained after a short skirmish in inflatable dinghies in which armed Russian FSB officers in balaclavas fired warning shots into the water.
The ship, with its crew comprising 18 nationalities, was then towed to Murmansk.