Marseille battles image as France's murder capital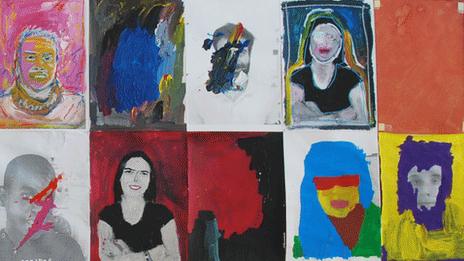 France's second city, Marseille, has become synonymous with drug-related violence in recent years but local politicians are fighting to change that image.
Between the grey high rises of the northern districts, trains pass every few minutes.
High-speed rail lines dissect these poorer residential areas, passing bridges and tunnels where gangs of young people smoke, talk and risk falling victim to drugs gangs.
It was by the railway tracks that 19-year-old Nabil Badreddine was murdered in March this year, metres from the apartment block where he lived.
His murder was one of 15 in the city this year to date.
From her flat overlooking the spot his mother, Baya Seddik, explains what happened: "They shot him twice in the back. After they'd shot him they poured petrol all over him and set the car on fire."
Nabil was so badly burnt it took days for the police to identify him.
"Because he had been so badly burnt they tested my DNA - and that's how they found out it was him," his mother says.
His killing - still unsolved - was part of a catalogue of crime that has fuelled local contempt for the authorities' inability to stop it.
According to police figures, a third of all the murders in France in 2012 took place in the Marseille region.
Victims are usually in their late teens and twenties. Many of them are thought to have been caught up in organised crime.
Ms Seddik believes her son was innocent. But in a cafe in one of the estates, where a group of men are watching the boxing on TV, one young unemployed man takes a different view.
"When a guy dies it is not for nothing," he says. "Maybe he's the snitch."
The man is a self-confessed drug dealer who claims to know at least 10 people who have been killed.
"It's not the bad guys who are the drug dealers," he says. "We joke with the cops. We sell drugs. We make money. We don't have problems with the neighbours. Everything, it's good."
In spite of a recent spike in the murder rate - there were at least 24 in 2012 and 20 in 2011 - the level of criminality is not as high as it once was.
In the early 1960s, as the war for Algeria's independence ended, hundreds of thousands of French people returned from former colonies in North Africa. Many settled in Marseille where new high-rises were built to accommodate them.
In the ensuing years the city gained a reputation for its vibrant multiculturalism, as well as for its link in the "French Connection", through which gangs trafficked heroin from Turkey to Europe and on to the United States.
"The city's geography has a lot to do with its problems," says sociologist Laurent Mucchielli at the University of Aix-Marseille, referring not only to the seaside location, but to social segregation between a poorer north and a richer south.
"The poorer classes traditionally live in the northern districts… meaning that social barriers have been constructed between north and south."
One of the big problems in the northern districts is the school drop-out rate.
In 2011, one secondary school - College Vallon des Pins - 15% of its pupils failed to reach their final exams.
After a concerted campaign led by its head teacher, Rania Moussaoui, just over 3% of pupils were quitting class before their final exams.
When I ask her why the problem existed, she says there was a lack of opportunities outside school for some children: "Perhaps some of my pupils have the sense that they live in a ghetto because they live alone with their mother? Perhaps she has no driving licence and they can't get around town so easily?
"We try to make the children aware of their surroundings and make sure they have access to a cultural education."
In the run-up to mayoral elections in Marseille next year, opposition parties have taken on the centre-right municipality on issues of social deprivation.
Senator and Socialist mayoral candidate Samia Ghali is campaigning for more extra-curricular activities for children in school to help them avoid falling in with the street gangs.
The far-right National Front (FN) has also seized on the problem and is campaigning hard. Its leader, Marine Le Pen, described the crime wave as gangrenous, telling a party conference last month that it was "the shape of things to come".
Were the anti-immigrant FN to capitalise on the problem in a multi-ethnic city like Marseille it would worry the governing left and the centre-right UMP, which controls the city mayoralty.
But Laurent Mucchielli says the Socialist French government is finally coming to understand the problem: "They realise it is one of family breakdown, educational failure and unemployment - not one single cause."
He says previous governments have failed to recognise the social factors at root.
But the city's UMP mayor, Jean-Claude Gaudin, denies his municipality has failed in its efforts: "When I took over as mayor in 1995, unemployment in this city was 21.6%.
"Today it is at 13%. I have not stopped lowering the rate. My political vision is for everyone to live together as a community."
Outside his grand office by the port, new museums and galleries have opened up - all part of Marseille's year as the European Capital of Culture.
It is all a far cry from the north of the city where all the talk is of a lack of investment and unemployment and where, in the stairwell of Baya Seddik's apartment, there is a pungent smell of urine and cannabis.
"Selling marijuana earns a kid 150 euros [£125; $203] - more than me, more than you," she says.
"No wonder that the street is robbing us of our kids. You can educate them all you want but they can easily fall into dealing or even killing. We're talking about little kids, you know?"
Ms Seddik now campaigns for opportunities for young people in her district.
From her apartment, where pictures of Nabil hang on the wall, you can just make out the sound of the trains heading to and from the beating heart of Marseille.