Priory Hall: Dublin fire hazard flats deal accepted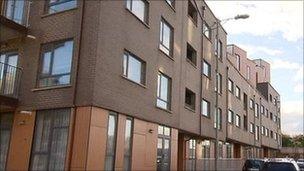 People who bought flats in a Dublin complex deemed to be a fire hazard have accepted a new mortgage deal that will see their debt written off.
More than 240 residents of the Priory Hall apartments were moved out of their homes in October 2011 after a court ordered work to make the building safe.
The flats were built by former IRA hunger striker Tom McFeely.
A residents' committee met Taoiseach (prime minister) Enda Kenny on Thursday evening.
Mr Kenny pledged that their difficulties would be resolved.
Following the meeting, the residents said that after a two-year battle, homeowners were looking forward to moving on with their lives.
McFeely, who is originally from Dungiven, County Londonderry, went on to become a multi-millionaire property developer during the Celtic Tiger housing boom.
Residents of Priory Hall were moved to emergency hotel accommodation by order of the High Court in Dublin, due to fears that the safety regulation breaches were so serious a fire could spread through the whole building in minutes.
Senior civil servants have brokered three weeks of negotiations involving former residents, banking representatives and the city council.
Under the plan, announced by Minister for the Environment Phil Hogan, around 90 former owner-occupiers will have their old mortgage debts written off and be given a fresh start with new 100% mortgages to buy homes.
The new mortgages are expected to be equivalent to the existing ones, which were for properties costing an average of 260,000 euros (£221,000).
Loans will be worked out depending on current individual circumstances and there will be a deal for two cash buyers.
The former residents will not get back their original deposits or four years of mortgage repayments made before the complex was evacuated because of fire safety defects.
There are 27 buy-to-let investors who will be treated separately and they have "tentatively" agreed to accept a two-year moratorium on their mortgages, rather than the fresh start offered to home owners, according to a spokesman.
The investors have been promised a complete refurbishment of the 187-unit complex.
Related Internet Links
The BBC is not responsible for the content of external sites.