Pope Francis to discuss German bishop spending row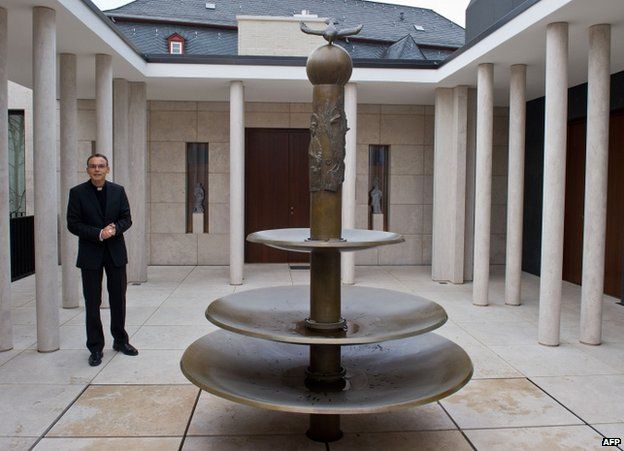 The head of the Catholic Church in Germany is to raise with Pope Francis a row over a bishop accused of lavish spending and lying under oath.
Archbishop Robert Zollitsch said he would meet the pontiff next week to discuss the Bishop of Limburg, Franz-Peter Tebartz-van Elst.
German prosecutors want to fine the bishop for making false affidavits. The bishop has made no immediate comment.
Pope Francis has preached frugality since taking office in March.
The bishop's name has been plastered across German newspapers all week, the Germany's international broadcaster Deutsche Welle reports.
There were calls for his resignation after it emerged that the cost of his new residence in Limburg, a town in Hesse near Frankfurt-on-Main, had run to 31m euros (£26m; $42m), more than six times the original estimate.
Then, on Thursday, state prosecutors in Hamburg said the bishop had twice lied under oath about a flight he took to India on a trip to visit poor children.
He had filed a civil court claim against Der Spiegel magazine, which is based in the northern city, for reporting that he had flown first class on the trip.
After being forced to print a retraction, the magazine filed a legal complaint of its own. As evidence, it published mobile phone video (clip in German) of its interview with Bishop Tebartz-van Elst, in which he clearly stated that he had flown business class.
Asked by the German daily Bild about the high cost of his new residence, the bishop said: "I understand that the high cost of 31m euros sounds frightening. Those who know me know that I don't have a pompous lifestyle."
Archbishop Zollitsch said he had set up a commission to investigate the finances of Limburg diocese.
"I'm not entitled to judge the request of the Hamburg state prosecutors or the Bishop of Limburg," he told reporters.
"I am sure that the bishop is dealing with this development thoroughly and with the necessary self-criticism".
He said he would "speak to the Holy Father and the relevant people" about the issue in Rome next week.
German Catholics pay a hefty compulsory tax to the Church, as part of their income tax, the BBC's Damien McGuinness reports from Berlin.
Many are shocked by the allegations of financial waste, which would go against the Pope's aspiration for Church leaders to live simply and modestly, our correspondent says.