French National Front party wins bellwether by-election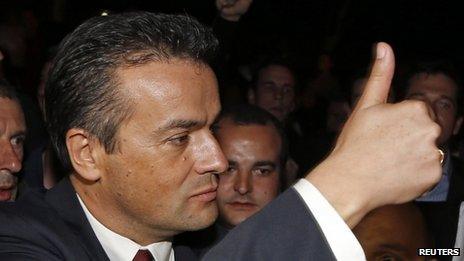 A candidate for the French far-right National Front (FN) party has won a by-election in the south-east, amid signs the party is gaining in strength.
Laurent Lopez won a seat in the Var regional council, defeating the centre-right UMP with 53.9% of votes.
Speaking on TV, FN leader Marine Le Pen said the results showed "a real desire for change by the French".
The party, once seen as a pariah in French politics, has made significant gains in popularity in recent months.
It has been expanding its appeal to disillusioned Socialist and opposition UMP voters with promises on crime and illegal immigrants.
Sunday's run-off poll was for a seat in the town of Brignoles, near Toulon.
Observers say the FN win there suggests the party may make gains in the 2014 municipal and European Parliament elections.
"This victory with an unambiguous score and a record turnout demonstrated that the National Front is a unifying party," Mr Lopez said after the results were announced.
He defeated UMP candidate Catherine Delzers to take one of 43 seats in the Var council.
Speaking on TV after the results were announced, Ms Le Pen said her party could win "hundreds, maybe a thousand" seats in local elections next March.
President Francois Hollande's party did not field its own candidate in the first round of voting, instead opting to back a Communist ally who failed to make it to Sunday's run-off.
The Socialist Party subsequently called on left-wing voters to back the opposition UMP but still failed to avert an FN victory.
President Hollande has seen a continuous fall in popularity levels since being elected last year, largely attributed to his failure to stem high unemployment rates and mounting concerns over crime.
Reacting to the by-election result, Socialist Party spokesman Eduardo Rihan-Cypel told LCI TV: "This should serve as a lesson to the left as a whole."
A poll of voting intentions for the European Parliament elections in May 2014 put the FN party ahead of France's two mainstream parties for the first time in any nationwide vote.
The Ifop poll for the Nouvel Observateur magazine said the FN was tipped to secure 24% of the vote and was "clearly ahead of both the (ruling) Socialist Party and the UMP", according to the Agence France-Presse news agency.
Marine Le Pen's party secured 17.9% of the votes in the first round of voting in last year's presidential election. It now holds dozens of local seats across France and two seats in Parliament.