Irish budget: More cuts expected despite bailout exit date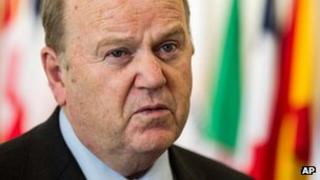 Irish finance minister Michael Noonan is expected to unveil another tough budget later.
Mr Noonan and the Public Expenditure Minister, Brendan Howlin, will take a further 2.5bn euros (£2.1bn) out of the Republic of Ireland's economy.
It is the last budget before the country leaves its EU-IMF bailout programme on 15 December.
However, austerity is likely to continue in the form of public spending cuts and tax rises.
Leaving the bailout and "regaining economic sovereignty", as the Taoiseach (Prime Minister) Enda Kenny describes it, is unlikely to make much difference to the everyday life of citizens as the state will still have to convince the bond markets that its financial house is in order and therefore worthy of receiving loans.
Indebted
Much of the good news - and in the current climate there's not much of that - has already been leaked; under-fives are to get universal free medical care and pupil-teacher ratios are to be protected, but it's expected the dole for those under 25 will be reduced.
The Republic of Ireland is, by most definitions, the most indebted country in the world with three inter-linked debt problems - that of the banks, private citizens and the state.
And while the Fine Gael-Labour coalition government is making headway in getting the state's debt under control, it is still borrowing about 1bn euros a month to pay for public services.
The banks' debt problem has not gone away either.
Next year's Europe-wide bank stress tests could well result in Irish banks needing further capital, either from the taxpayer or the new European bank bailout fund, the European Stability Mechanism (ESM).
But already some Germans have indicated an unwillingness not just to fund Ireland's legacy banking debt - the dead money that went to banks like Anglo - but also future banking debt.
Last week, a German newspaper reported that the issue of Ireland's debts had come up in Chancellor Angela Merkel's coalition negotiations with the centre-left SPD.
Just maybe the singing of Deutschland über Alles on the infamous Anglo tapes may come back to haunt the country.
More likely, though, is some form of German push for some Irish give on some issue related to low corporation taxes and multi-national companies; Ireland will strongly resist any attempt to change the 12.5% rate.
The only way the country can get its debts under control is by economic growth of about 3% to 4% annually for several years; and at the moment that does not appear very likely with the country not long out of recession and the rest of the world still flagging economically.
The budget and the build-up to 15 December could well be more like the end of the beginning rather than the beginning of the end.