Row over Kosovo Roma expulsion grips France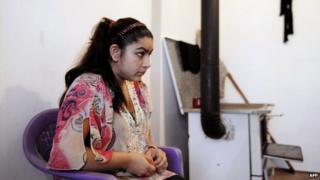 France's government is embroiled in a row over the repatriation of a Kosovo Roma schoolgirl, who was removed from her school bus.
The 15-year-old, Leonarda Dibrani, was expelled along with her parents and five siblings after they lost their battle for asylum in France.
When the order was enacted, she was on a school field trip and was removed in view of the other children.
Leonarda told French radio she was being denied education in Kosovo.
She said she wanted to return to France to finish school.
The government is conducting an inquiry into how the case was handled.
Prime Minister Jean-Marc Ayrault told parliament that if a mistake had been made, the family could return to France to have its situation reassessed in respect of French "laws, practices and values".
His Interior Minister, Manuel Valls, defended the expulsion. Last month he declared Roma people incompatible with the French way of life.
Mr Valls is voted France's favourite politician in opinion polls but he has been strongly criticised by human rights campaigners and figures within his own party for his strident comments.
Critics accuse President Francois Hollande's administration of following the hard line on the Roma taken by his conservative predecessor as president, Nicolas Sarkozy.
The new row has deepened the rift within the ruling left on how to tackle the issue, the BBC's Christian Fraser reports from Paris.
'Pupils shocked'
The Dibrani family left Kosovo for France five years ago and were living in Levier, in the Doubs region of eastern France. They cited discrimination in Kosovo as grounds for asylum.
An order for their expulsion was issued after they lost their battle for asylum. After two postponements, it was rescheduled for this month and the father, who was detained in a different town, was expelled on 8 October.
A blog posted by the French news website Mediapart describes in detail what happened next.
Arriving at the family's home on 9 October, border police found that Leonarda was on the field trip - she had stayed the night at a schoolfriend's house in order not to miss the bus - and they contacted one of the teachers on the bus, through the school.
The indignant teacher, Mrs Giacoma, argued with the police over the phone before finally stopping the bus and getting off with Leonarda, when police took her into custody.
"My colleagues then explained the situation to some of the pupils, who thought Leonarda had stolen something or committed an offence," she was quoted as saying by Mediapart.
"The pupils and teachers were very shocked."
At 13:00 (11:00 GMT) the same day, the family were put on a plane to Pristina, Kosovo's capital. Since then they have been living in the divided city of Mitrovica.
'I felt ashamed'
Speaking by phone to France Inter radio, Leonarda said she and her family were isolated in Mitrovica because they were Roma.
"I felt awful abandoning my friends, the school, everyone," she recalled.
"I felt ashamed too because the police were there and my friends were asking what I had done, if I had stolen something."
During the interview, she said "we sleep under bridges" in Kosovo. It was unclear if she was speaking specifically about her own family - as an AFP photographer later visited her in what the news agency called her home in Mitrovica.
Mr Valls insisted that the deportation of Leonarda and the rest of her family had been carried out in line with established procedure.
"Everyone should keep a cool head," he said.
"Do not for one single moment doubt that the rules, based on the law, are applied by my services with intelligence, discretion and humanity. We have to carry out these deportations.
"It is of course a difficult subject but any immigration policy requires respect for the law, respect for individuals and great firmness. I am accountable for that to the French people."
But the Socialist speaker of the National Assembly, Claude Bartolone, said in a tweet on the case: "There is the law but there are also values on which the left must never compromise."
Education Minister Vincent Peillon said school had to be a "sanctuary". "We have to retain our principles based on rights and humanity," he said.
Amnesty International recently reported that more than 10,000 Roma had been evicted from temporary camps in France in the first half of the year.
Some 20,000 Roma have settled in France, coming mainly from Romania, Bulgaria and parts of the former Yugoslavia like Kosovo.