European Court of Human Rights condemns Spain over Eta case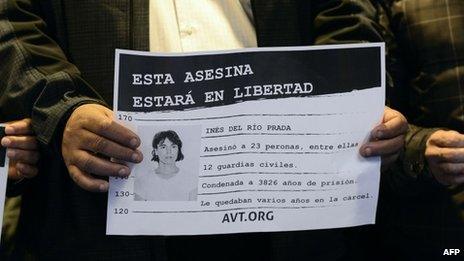 The European Court of Human Rights has condemned Spain over its continued detention of a convicted militant, and demanded her release.
Ines del Rio, of the Basque separatist group Eta, is currently serving a 30-year prison sentence for her role in bomb attacks in the 1980s.
The court upheld its earlier ruling that del Rio should be eligible for a sentence reduction for good behaviour.
Spain says dozens of Eta prisoners could now be eligible for release.
Del Rio was arrested in Zaragoza while driving a car packed with explosives intended for an Eta attack on the Costa del Sol.
She was sentenced to more than 3,000 years in jail in 1987, most of which was for her role in a car bomb attack on a Guardia Civil police patrol in Madrid in 1986 which left 14 dead and 40 injured.
Under the Spanish legal guidelines in place at the time of her conviction, Del Rio's prison term was reduced to the maximum possible sentence - 30 years.
Del Rio was due for early release in 2008 due to good behaviour, but her sentence was extended.
But Spain changed the rules on remission in 2006 and decided to postpone Del Rio's release until 2017.
In rejecting an appeal by the Spanish government, the European Court of Human Rights has upheld its 2012 ruling against Spain which opposed a legal practice known as the "Parot doctrine" - that allowed prison terms to be extended for people convicted of terrorist offences.
The Court, based in Strasbourg, ruled that the prolonged detention of Ines Del Rio was a violation of two articles (5 and 7) of the European Convention on Human Rights, which cover the right to no punishment without law, and the right to liberty and security.
In it judgment, the court said "it was incumbent on the Spanish authorities to ensure that she [Ines Del Rio] was released at the earliest possible date".
It also ordered the Spanish government to pay 30,000 euros (approximately $41,000, or £25,400) in compensation to Ms Del Rio.
Although the Strasbourg court's ruling only applied to Ms Del Rio, the Spanish government had said that dozens of other convicted Eta members could be eligible for release if it was upheld.
Groups which represent the victims of terrorist attacks have called on the Spanish Prime Minister, Mariano Rajoy, not to comply with the ruling.
"Compliance will betray victims of terrorism and all Spaniards," said Voices Against Terrorism, in a statement.