The cult of the French pastry chef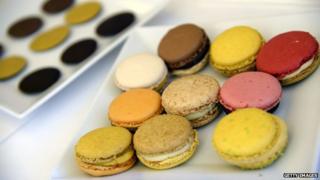 No French high street would be complete without a patisserie, and words such as "gateau", "eclair" and "flan" indicate that French pastry chefs are esteemed as much abroad as at home. But in the last couple of years, patissiers have shot to stardom, joining the top ranks of France's celebrity chefs.
French patisserie used to be delicious but predictable - the chocolate eclair, the vanilla or raspberry flavoured macaroon, the classic French apple tart or the mille-feuille (a sophisticated vanilla slice).
Something has changed. Ever heard of the caramel popcorn, pistachio-orange or pecan eclair by Christophe Adam? Or the olive-oil macaroon with mandarin orange and cucumber water by Pierre Herme?
These are a couple of the audacious creations a new generation of French pastry chefs have launched on a startled but delighted French public.
France has always loved patisserie, but for some reason it now loves its patissiers more than ever.
Their books are filling the shelves of book shops, and their stores are multiplying - five new "patisseries de luxe" opened in the month of September, in Paris alone.
And while The Great British Bake Off has gone from strength to strength, France has developed its own competitive baking shows, such as this year's Who Will be the Next Great Patissier? For the last episode contestants had to make a piece of fashion out of chocolate.
Another show, The Gateau of My Dreams, where a chef goes to someone's house to help them bake a challenging cake or dessert, began in February 2012 - starting with mille-feuille with caramelised maple syrup, and Black Forest gateau with acidulated morello cherry - and published a spin-off book in its first year.
One explanation for the sudden rise of the pastry chef is as a consequence of the recession.
In these times of crisis, patisserie has become a relatively affordable luxury - compared say with going to the restaurant - says Sebastien Gaudard, one of today's up-and-coming pastry chefs.
He has noticed a change in his customers' habits. Instead of buying a big cake for a Sunday lunch or a dinner party, couples are now more likely to visit during the week to buy one or two patisseries for themselves alone.
Patisserie, he says, is a form of comfort food.
"What drives the world of sweets, I think, is that eating sweets brings us back to a time in our lives when we had no worries, the carefree time of childhood."
But the growing enthusiasm for patisserie is also due to the fact that a new generation of pastry chefs have re-invented their craft, according to Zakari Benkhadra, managing director of the Ecole Nationale Superieure de la Patisserie (ENSP), in the countryside south of Lyon.
Chefs have started to make elaborate and visually interesting creations using techniques such as mixing sweetness and saltiness (salty macaroons), creating original shapes (an audio cassette shaped pistachio-chocolate bar) or making surprising high-quality desserts using mainstream products such as Haribo sweets and Nutella.
A parallel piece of culinary invention, which made headlines earlier this year, was the cronut - a cross between a croissant and a donut - created by French chef Dominique Ansel in New York.
The patisserie craze has had a direct impact on the ENSP's enrolment numbers. Struggling to fill some classes in 2008, it now turns away some applicants for lack of space.
But not all the top patissiers are modernising traditional recipes and improvising with new tastes.
Sebastien Gaudard represents another trend, which is to return to authentic and relatively simple creations.
"My wish is to render the past marvellously present," says Gaudard, 43.
Gaudard, the son of a famous pastry chef in Lorraine, eastern France, is one of a number of contemporary pastry chefs who served an apprenticeship at the Paris institution, Fauchon, which is famed above all for its patisserie.
Since November 2011 he has run a shop in the ninth arrondissement of Paris, selling delicacies from the past that are no longer always available in every patisserie.
These include the Puits d'amour, a dessert created by the 18th Century chef Vincent La Chapelle, its hollow centre stuffed with vanilla cream, and the classic Paris-Brest, made of choux pastry and a praline-flavoured cream, inspired by the Paris-Brest-Paris cycle race - its circular shape representing a bicycle wheel.
A speciality is the Mussipontain a cake made of meringue, vanilla cream and caramelised almonds whose name derives from the inhabitants of the city of Pont-à-Mousson, Gaudard's home town. This is his father's own creation.
But whether people prefer startling creativity or traditional pastries, all pastry chefs are out to please their customers - and the customers evidently enjoy being pleased.
"We sell pleasure," says Gaudard. "People come to us for pleasure."
Follow @BBCNewsMagazine on Twitter and on Facebook