Graphics: Europe's asylum seekers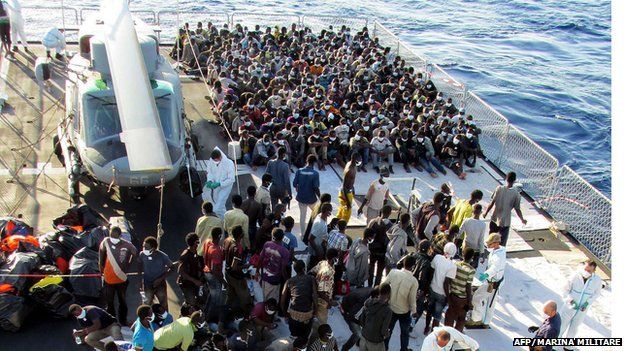 Syria's brutal civil war is pushing a new wave of migrants towards Europe. Their numbers have surged, but many asylum seekers in Europe have also fled the conflicts and turmoil in Afghanistan, Iraq and the Horn of Africa.
European governments are struggling to co-ordinate their response to the influx. Large movements of migrants from country to country quickly fuel suspicions that some politicians are trying to shift the burden on to their neighbours.
Greece and Italy - major entry points for migrants - say there must be more burden-sharing in the EU, especially as they have been hit hard by the eurozone crisis. Migrants continue to board overcrowded, rickety boats, risking their lives.
More than 3,000 migrants have died crossing the Mediterranean this year, the International Organization for Migration (IOM) reported in September - more than four times the estimated deaths in 2013.
In one of the worst incidents, at least 300 migrants drowned off Malta in early September. Survivors said their boat had been rammed by Egyptian people traffickers.
Among industrialised countries, Germany now receives the most asylum claims - in 2013 it overtook the US. The increase in Germany has been fuelled by big migrant flows from war-torn Syria and Iraq, Deutsche Welle news website reports.
(Total applications includes some asylum seekers not yet officially registered)
In 2013 Syria became the top country of origin among those seeking asylum in the EU. In 2012 Afghanistan was in the top slot, followed by Russia and then Syria.
The UN says asylum claims have soared to their highest level since the wars in former Yugoslavia in the 1990s. Globally Europe is by far the top destination for asylum seekers.
Asylum is granted to those who say they are fleeing persecution and who can convince the authorities that they would face harm or even death if they were to be sent back.
Germany handles about a quarter of the total asylum claims in the EU. The influx has put a great strain on the reception centres housing asylum seekers.
France is the second biggest destination. But often English-speaking migrants head for the UK, which is home to large communities from Pakistan, Somalia and Middle Eastern countries.
Among the asylum seekers from Russia there are many Chechens, whose homeland was devastated by war between separatist rebels and Russian troops.
The asylum seekers from Serbia include many Roma and ethnic Albanians, who complain of discrimination in Serbia.
It is important to remember that developing countries host more than 80% of the world's refugees. People fleeing conflict or persecution often end up in a neighbouring country - but many do not want to settle there permanently. Pakistan, with 1.6 million refugees, ranks highest for sheltering refugees. The vast majority of Afghan refugees are in Pakistan and Iran.
Most Syrian refugees are in neighbouring Turkey, Lebanon, Jordan and Iraq, and most have not made formal asylum claims.
In such cases of massive displacement - Somalia is a similar case - those fleeing are automatically recognised as refugees, a spokesman for the UN refugee agency (UNHCR) told the BBC.
The refugees register and their stay is regulated, so they are protected from being sent back, the UNHCR's Andrej Mahecic said. It is not individual asylum processing as happens in Europe. Many countries do not have a national asylum system.
For many asylum seekers Europe is easier to reach overland or by boat, especially those fleeing conflicts in the Middle East or Africa. And people traffickers already have well-established smuggling routes to Europe.
The figures illustrate why immigration has become such a hot topic in Europe.
Globally Syria has overtaken Afghanistan as the top country of origin among asylum seekers. In 2013 the numbers from Iraq - racked by war, like neighbouring Syria - rose above those from China and Pakistan.
The main countries of origin have anti-government minorities and dissidents who allege discrimination or persecution.