Russia's controversial health chief Onishchenko departs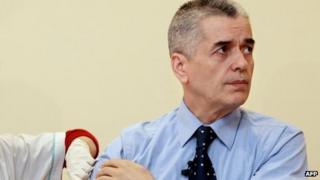 Russia's chief sanitary inspector, Gennady Onishchenko has been removed from his post and given a new job.
A spokeswoman for the Russian Prime Minister, Dmitry Medvedev, denied that Mr Onishchenko had been dismissed.
She said his contract had ended and he had now been appointed as an adviser to the prime minister.
During his tenure, Mr Onishchenko was widely known for making a number of controversial decisions regarding food products from neighbouring countries.
Correspondents say he used his position at the Rospotrebnadzor agency to punish countries which disagreed with Russia.
But Mr Onishchenko has always denied that political motives influenced the measures taken by the agency.
Catalogue of controversial decisions
In March 2006 Russia banned the imports of wine and mineral water from Georgia, citing contamination of some shipments and warning of risks to health.
The move came at a time of deteriorating relations between the two countries as Georgia took a more pro-Western stance and stated it wanted to join the Western military alliance, Nato.
A similar stance was taken against Belarussia in 2009 as the country moved closer towards the European Union. The Russian food agency reacted by banning the export of vegetables on health grounds.
In August this year, Mr Onishchenko banned chocolate imports from Ukraine's largest confectioner, saying its products fell below safety standards. Correspondents say the decision coincided with the uneasy relationship over energy supplies, and may also have been in retaliation for Kiev's import duties on Russian cars and attempts to set up a customs union.
This month Lithuania - as it prepares to host an EU summit aimed at forging closer ties with neighbouring countries - was told its dairy products would be banned because they did no longer met the necessary quality standards.
He also recommended avoiding sushi because of a risk of tapeworms and he proposed killing crows, which he described as feathered wolves, for allegedly spreading bird flu.